This flying robot could help maintain skyscrapers
Marie Donlon | November 08, 2019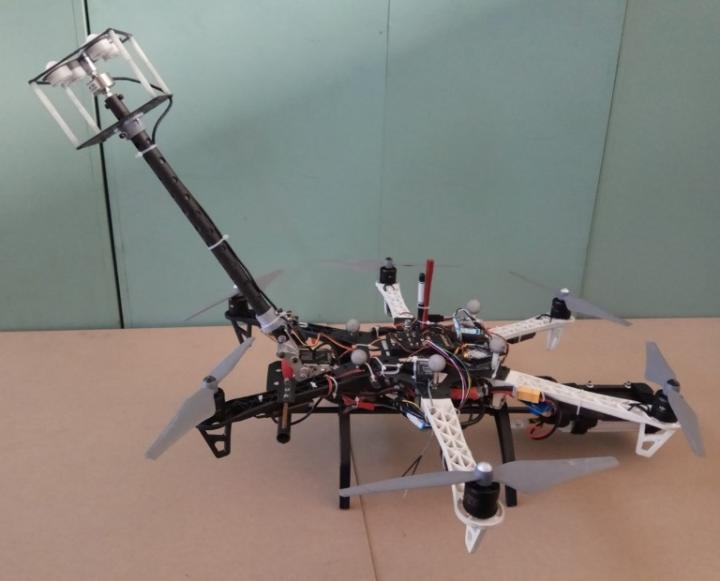 Source: MENG XiangdongResearchers at the Shenyang Institute of Automation (SIA) of the Chinese Academy of Sciences have developed a flying robot that they say may one day help to maintain and repair high-rise buildings.
The robot, called a contact aerial manipulation system, is composed of a cube frame with a single-degree-of-freedom manipulator along with a hex-rotor-based unmanned aerial vehicle (UAV) system.
According to its developers, the system can avoid obstacles and window grooves. Additionally, the contact force of the system is operated without force sensors, which can be problematic because flying robots are vulnerable to external forces.
To do that, engineers based the robot's design to act like a traditional spring system, with an elastic coefficient that can be altered, thereby adjusting the control parameters.
To demonstrate the robot's precise force control, the researchers instructed the flying robot to turn a wall-mounted light switch on and off by pressing the switch. They also asked the robot to write on a glass wall by using a pen fixed to the end of the aerial manipulator system.
The team envisions that the robots will be able to take on tasks currently undertaken by humans, including skyscraper window maintenance, cleaning and repair.
The development of a robot capable of undertaking high-rise maintenance tasks from humans follows a current trend where robots are taking on more tasks thought to be too dangerous for humans to undertake. For instance the U.S. Navy is testing an autonomous robotic system that detects, identifies and destroys sea mines. Likewise, a team of scientists from the University of Chemistry and Technology in the Czech Republic are working on self-propelled microbots that remove radioactive uranium runoff from nuclear power plants. And, a host of security robots patrol airports and hospitals around the world.
The team presented their observations at the 2019 IEEE/RSJ International Conference on Intelligent Robots and Systems (IROS 2019) held in Macao, China, Nov. 4-8.