This innovation could cut soot emissions from diesel engines
David Wagman | October 28, 2019
An engine innovation known as ducted fuel injection could help to cost-effectively reduce emissions of soot and nitrogen oxides, encourage the use of renewable fuels and maintain or even improve engine performance.
The technology was developed by Charles Mueller at the Department of Energy's Sandia National Laboratory and its Combustion Research Facility. The novel system is able to fine-tune the fuel-air mixture in an engine to the point of eliminating between 50% and 100% of the soot, depending on the engine's instantaneous speed and power level.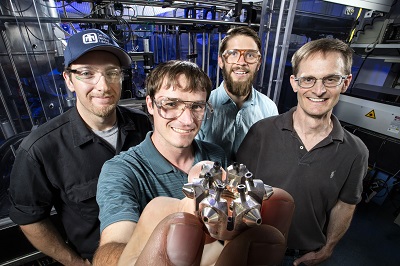 Sandia National Laboratories researchers, from left, Nathan Harry, Christopher Nilsen, Drummond Biles and Charles Mueller show off the prototype ducted fuel injection module. Source: Randy WongThe researcher said the technology works well with conventional diesel fuel, is conceptually simple and can be constructed from low-cost materials.
"Ducted fuel injection is also conceivably retrofittable onto existing engines," Mueller said in a Sandia laboratory news brief. "A retrofit could be relatively inexpensive and could provide substantial emissions benefits right away."
This may benefit large engines, like those in ships or locomotives.
Insight from a Bunsen burner
Mueller reportedly got the idea for ducted fuel injection by observing a Bunsen burner. He noted that unscrewing the tube on a Bunsen burner produces a tall, sooty orange flame when the gas jet is lit. Screwing the tube back on and re-lighting the burner produces a short blue flame. The flame is blue because there isn't any soot, he said.
Mueller and his team began experiments that resulted in an assembly of four to six small tubes — or ducts — that direct fuel mixture from the injector to the points of ignition. Injectors in a traditional diesel engine create local igniting mixtures that contain two to 10 times more fuel than is needed for complete combustion.
That much excess fuel at high temperature can yield a lot of soot. The ducts enable ignition to occur with less excess fuel, reducing the potential for soot.
Mueller said that one challenge to existing combustion systems is what he called the soot-NOx trade-off.
"When you do something to lower soot, emissions of nitrogen oxides — or NOx — go up, and vice versa," he said.
Nitrogen oxides are also atmospheric pollutants, and the trade-off meant that truck, car and equipment makers couldn't meet current legislated limits without adding exhaust-gas after-treatment systems. Mueller said that once soot is out of the stream, some of the engine exhaust can be routed back to the intake where additional NOx can be removed.
Mueller said that in engine experiments, his team has observed simultaneous orders-of-magnitude reductions in soot and nitrogen oxides.
A boon for renewable fuels?
The near-elimination of soot and nitrogen oxides may also open up the market for renewable fuels. Mueller said that ducted fuel injection works well with oxygenated fuels, which have one or more oxygen atoms bonded into some or all of their molecules. Many renewable fuels are oxygenated, he said.
Ford and a manufacturer of off-road equipment recently signed a Cooperative Research and Development Agreement with Sandia to help advance the technology.
The research was conducted as part of the Co-Optimization of Fuels and Engines program sponsored by the U.S. Department of Energy, Office of Energy Efficiency and Renewable Energy, through the Vehicle Technologies and Bioenergy Technologies offices.