Self-sterilizing polymer quickly kills dangerous hospital microbes
S. Himmelstein | September 24, 2019
A new materials-based antimicrobial strategy to combat drug-resistant pathogens responsible for hospital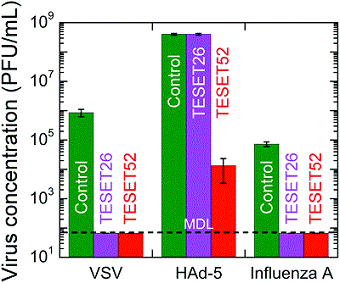 The polymer proved effective against infectious virus strains. Source: North Carolina State Universityinfections has been developed by North Carolina State University researchers. The hydrophilic polymer inactivates viruses and bacteria in minutes and could find wide application in hospitals and other clinical settings.
The elastic polymer is chemically modified to form sulfonic acid, which attracts water from microbes. This interaction increases the acidity of the sulfonic acid functional groups, reduces surface pH and quickly kills pathogens.
The antimicrobial material was demonstrated to kill 99.99% of six types of bacteria, including three antibiotic-resistant strains, within five minutes. Influenza, human adenovirus and a rabies analog virus were also inactivated in the same timeframe.
The antimicrobial efficacy of the polymer can be maintained for continued use by a short immersion in an acid solution. This process recharges the material, which becomes electrically neutral on contact with microbes, by enabling the sulfonic acid groups to exchange bound cations with protons from the acid.