Hyundai to Begin Testing Industrial Exoskeleton by Year's End
Peter Brown | October 23, 2018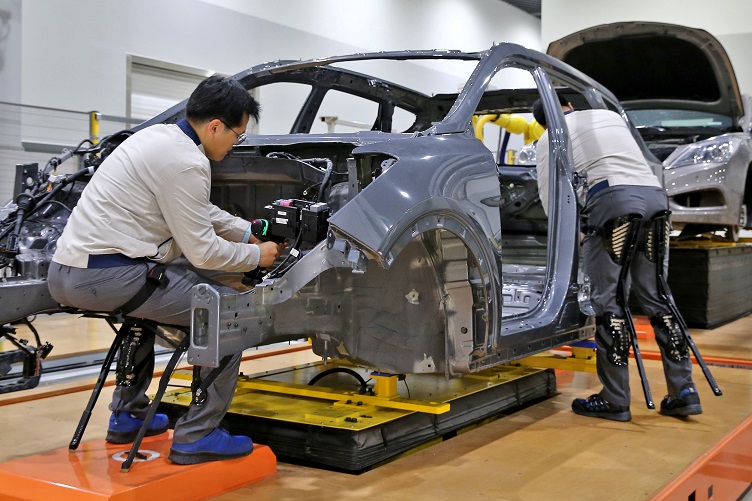 The Hyundai Chairless Exoskeleton is being tested in North American facilities to help workers on assembly lines. Source: Hyundai
Hyundai Motor Group is testing a new exoskeleton wearable that will allow workers to lift heavy objects more easily as well as alleviate pressure on workers' extremities.
While still a prototype, Hyundai plans to test the Hyundai Vest Exoskeleton (H-Vex) toward the end of this year and then use the exoskeleton in its North American factories. The H-Vex is a device that will help alleviate pressure on a worker's neck and back by adding 60 kilograms of strength to the user when their arms are used overhead.
The development comes after Hyundai created the Hyundai Chairless Exoskeleton (H-CEX), an industrial device to help with knee joint protection that also helps to maintain a worker's sitting position. The H-CEX weighs just 1.6 kilograms but can withstand up to 150 kilograms by attaching around the waist, thigh and knee. It can be used at three different angle settings of 85, 70 and 55 degrees.
The H-Vex exoskeleton is part of Hyundai's strategic plan to expand into wearable robots, service robots and micro-mobility. The company said it will work with domestic and international companies that possess robotic and artificial intelligence technology to expand this strategy. Hyundai has already made recent investments in AI technology startup Perceptive Automata to secure a human movement prediction technology and DeepGlint for its machine vision AI.
Hyundai said it plans to develop robotics in other areas outside of industrial wearables. These include hotel robots that can bring room service or guide guests around a hotel, a sales service robot to explain car details or other retailer assignments and robots that automatically charge electric vehicles.