Hyundai Showcases Advanced Wearable Robots at 2017 Geneva Motor Show
Engineering360 News Desk | March 13, 2017
While there certainly are a lot of vehicles being presented at the 2017 Geneva Motor Show, Hyundai decided to showcase some different technology. Hyundai is presenting its advancements in wearable robots that are meant to help disabled people walk and workers to avoid injuries and health problems.
If you really think about it, Hyundai is not so far out of its main spectrum of activities. Personal mobility is what concerns automotive industry the most. Being able to move from one place to another is a huge part of personal freedom, which for some is limited because of health issues. These exoskeleton robots from Hyundai use a wireless clutch with on-board motion control system, which allow disabled people to walk, turn, sit down, stand up and even walk up the stairs. Something paraplegics can only dream of doing now. These are capabilities of H-MEX (Hyundai Medical EXoskeleton), but there are several kinds of these robots.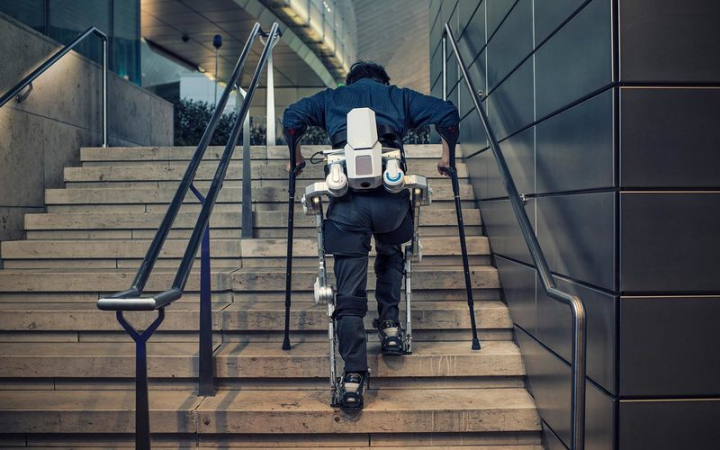 Robotic exoskeletons from Hyundai will improve the physical ability of some people and will seek to prevent many workplace injuries. Source: hyundai.news
The HUMA (Hyundai Universal Medical Assist) is similar as it is an exoskeleton too, but it only assists person's movements — it provides more torque, so people can run faster and carry more weight, but they have to have at least some control of their muscles. Meanwhile H-WEX supports upper body and hips only and is meant to help people at work to do heavy lifting without back injuries. H-MEX and HUMA are powered by removable and rechargeable battery packs. They take advantage of complex joint systems that adapt to person's body perfectly, making it comfortable and supportive. But H-WEX is a lot different.
H-WEX is meant for healthy people who have to do a lot of hard physical work in their workplace. It is meant to prevent injury. The Waist Assist function enables the exoskeleton to flex its joints at up to 180 degrees per second. And so the robot ensures a proper body position when lifting heavy weights. Back and upper leg injuries can be avoided.
It is interesting that this technology was showcased at the Geneva Motor Show, but at the same time it is meant to show technology that will be moving people in the future.