New research shows development surge for chemical injection pumps
Tony Pallone | July 12, 2019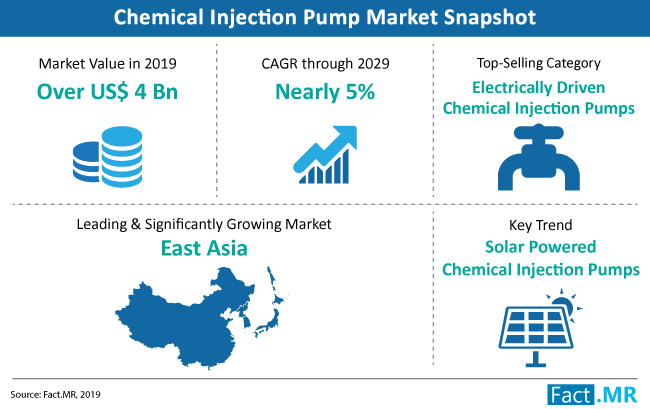 Snapshot of the chemical injection pump market. Source: Fact.MR
According to a new research report from market intelligence firm Fact.MR, the chemical injection pumps market is currently experiencing a surge of development. After registering a nearly 4% compound annual growth rate (CAGR) during 2014 through 2018 and sales closing in on $4 billion in 2018, the market is anticipated to grow at a CAGR of nearly 5% through 2029.
Market gains can be accredited to the oil and gas industry, along with water treatment projects. Key focus areas shaping the competitive landscape have been strategic acquisitions and contractual supply agreements. Companies playing key roles are prioritizing improvements in accuracy and reliability of chemical injection monitoring and control devices.
The report also notes that incorporating digitalization is set to deliver opportunities for optimizing both operations and maintenance. Advanced analytical methods and monitoring equipment that permit predictive maintenance are said to be empowering end-users to revamp pump uptime, motivating profitability for manufacturing players. Efforts at reducing the industry's carbon footprint are also fueling innovation, with an emphasis on the engineering of compact pump designs.
The dominant players in the chemical injection pumps market, accounting for close to 50% of sales, are pneumatic and hydraulic pumps combined. However, electrically powered pumps acquire over a third of overall sales alone, which the new report attributes to greater adoption across the oil and gas industry aimed at achieving reduced methane emissions. The need for high energy efficiency has also prompted solar-powered chemical injection pumps to gather momentum in the market.
In terms of geography, the region of East Asia is projected to remain the leading market for chemical injection pumps. With its strong production and manufacturing capabilities, it is expected to account for more than a 30% share in the global market during 2019. At the same time, the region of South Asia is estimated to be ranked among the major regional markets in terms of sales. One contributing factor to increased investments in both the oil and gas and water treatment sectors across East and South Asian countries is growing concern about the effects of poor water quality. Proactive wastewater management projects are on the rise in Asia and other developing regions, and desalinization projects are contributing to the increasing adoption of chemical pumps.
For more information about the new report, published in June 2019, go to Fact.MR.