Demand for Vacuum Pumps Increasing
Engineering360 News Desk | June 28, 2016
Three emerging trends are driving industrial demand for vacuum pumps globally, according to a new report from Technavio. They are:
· Growing demand from the semiconductor industry;
· Emerging demand from the pharmaceutical and biotechnology industries; and
· Emerging high-tech applications for industrial vacuum pumps, including cloud computing and the LED-manufacturing industry.
Vacuum pumps are engineered to remove gas molecules from a sealed volume, leaving behind a partial vacuum. Manufacture of semiconductors remains a major market for these pumps, and the report projects growth in the global semiconductors market of 6% (CAGR) through 2020. It notes that a typical semiconductor-manufacturing unit employs an average of 750 dry vacuum pumps. Market growth is fueled by rising demand for computers and mobile phones.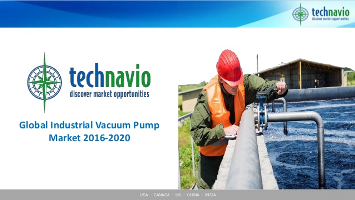 Higher demand in the global industrial vacuum pump market is positively affected by many industries. Photo: Technavio.During semiconductor production, gases react and form a film on the surface of a silicon wafer. Vacuum pumps provide reliable low pressure in the production chamber to facilitate film formation. Pumps often run 24 hours a day, seven days a week.
The global biotechnology industry is projected to expand at a CAGR of close to 9% through 2020. In these markets, the use of industrial vacuum pumps supports efforts to ensure product quality assurance, including the control of product contamination.
Vacuum pumps play a vital role in the pharmaceutical industry, finding use for the manufacture of bulk drugs, intermediate products or active pharmaceutical ingredients. The production of pharmaceutical products is subject to high quality demands, and several process steps operate under vacuum, including degassing, vacuum distillation and drying.
When it comes to emerging high-tech applications for vacuum pumps, the report cites the growing use of cloud computing and LED manufacturing as drivers, in support of expanded use of the Industrial Internet. "With investment in infrastructure expected to top USD 60 trillion in the next 15 years," says a report summary, "the number of devices connected to the Internet will continue to swell. The manufacture of all of these devices will require high-tech vacuum pumps that will lead to the growth of the industrial vacuum pump market."