VR game trains law enforcement on disaster management
Marie Donlon | March 27, 2019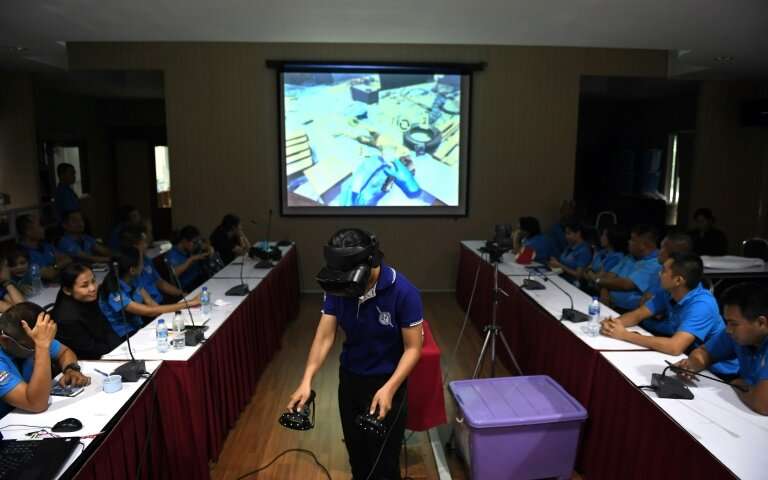 Police in Thailand are testing a new VR game as part of disaster response training. Source: AFP
The International Committee of the Red Cross (ICRC) has developed a new virtual reality (VR) game to train law enforcement in disaster management.
In the aftermath of a disaster such as an earthquake or tsunami, law enforcement is tasked with searching for victims' remains, taking pictures of their faces and other identifying marks such as tattoos and personal belongings to establish their identities, notetaking and transporting bodies. The humanitarian organization's new VR game enables law enforcement to live out those tasks in a virtual environment complete with other challenges one might experience in a real-world disaster scenario.
To test the system, law enforcement teams in Thailand's Chonburi province were trained on the VR game, which recreated the aftermath of such disasters complete with details that tend to complicate search and rescue efforts, for instance dangling electrical cables or the presence of animals. In one such scenario, while a rescuer virtually attempts to recover the corpse of a victim, the victim's arm detaches from the body while a rat scurries by.
Traditionally, training law enforcement personnel for such scenarios involved using bulky mannequins. Although using mannequins can give weight to a task such as transferring a body into a body bag, the VR game makes training accessible to those outside of the classroom as well as allowing for multiple different scenarios, according to attendees like Nithi Bundhuwong, head of Thailand's disaster victim identification department.
"In the past, training was based on repeating (the same exercise) again and again, and it was a waste of time and money," Bundhuwong said.
"Thanks to virtual reality, we can simulate different scenarios" from crime scenes to natural disasters, he added.
As VR and AR (augmented reality) become more sophisticated, they are being applied to a host of scenarios including preventing dog bites to treating addiction and training doctors to spot signs of child abuse.