Photo-driven americium extraction from nuclear waste
S. Himmelstein | March 25, 2019
Remediating the high-level nuclear waste from U.S. defense programs requires treatment technologies tailored for specific radioactive elements. Researchers at the U.S. Department of Energy-funded Center for Actinide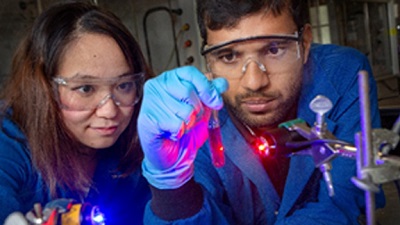 Researchers perform a photochemical separation of ruthenium and iron using blue and red light, respectively. Source: Florida State UniversityScience & Technology (CAST) Energy Frontier Research Center are developing methods to extract americium and other recalcitrant components in the 93 million gallons of waste stored in Washington State and South Carolina.
Plans call for high-temperature vitrification of these wastes to immobilize radionuclides in solid form, but the presence of the actinide americium is problematic because of its heat-generating properties. Extracting and storing the element separately is expected to simplify waste treatment.
A light-driven separation approach under development excites the americium in a nuclear waste batch and alters a stringy molecule that bonds to all the constituent elements. The americium is then isolated and separated from uranium and other heavy elements.
The researchers continue to conduct computer simulations and laboratory tests to compile detailed data on the arrangement of electrons in heavy elements, which could help improve the efficacy of vitrification and other solidification systems.