Recycling used nuclear fuel with a one-step strategy
S. Himmelstein | May 06, 2020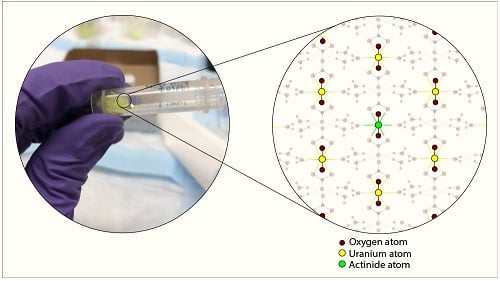 The one-step chemical reaction leads to the formation of crystals containing uranium (yellow-filled circles) and small quantities of other leftover fuel elements (green-filled circles). Source: Jonathan BurnsA one-step proliferation-resistant approach for separating out unused nuclear fuel elements in nuclear waste has been engineered at Texas A&M University. The chemical reaction outlined can be repeated multiple times to maximize fuel recovery yield and streamline nuclear fuel recycling.
The process entails dissolving fuel rod components in concentrated nitric acid at 60 to 90° C. In tests conducted with a surrogate mix of uranium, plutonium, neptunium and americium, these elements separated out as the solution approached room temperature. These radioactive species of interest became bound within the structure of uranium crystals, facilitating their removal from solution and potential reuse in nuclear power production.
As plutonium is not isolated but is instead incorporated within the uranium crystals, the simple approach is proliferation-resistant and can be easily implemented at industrial scale. The actinide recovery process can also contribute to reducing the volume of radioactive waste requiring long-term storage.