New Melter Pours First Vitrified Waste
S. Himmelstein | January 12, 2018
A newly installed melter at the Defense Waste Processing Facility at the U.S. Department of Energy's Savannah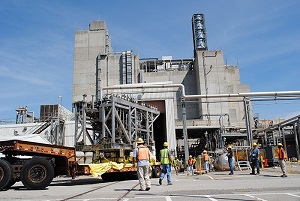 Melter 3 enters the Defense Waste Processing Facility in July 2017. It poured its first canister of vitrified high-level radioactive waste Dec. 29, 2017. Source: U.S. Department of Energy's Savannah River SiteRiver Site has poured its first canisters of vitrified radioactive waste.
The melter treats high-level radioactive waste, currently stored in tanks at the South Carolina site, by blending it with a borosilicate glass known as "frit" to form a molten glass mixture. The vitrified mixture is then poured into stainless steel canisters. The stabilized waste can then be safely stored onsite until a permanent disposal facility is available.
The new melter was installed as the third such system in the 20-year history of the facility, and replaced Melter 2 which reached the end of its operational life in 2017 after 14 years of operation. During its service life, Melter 2 poured 10.8 million pounds of glass into 2,819 canisters.
Melter replacements are built into the overall plan for liquid waste treatment at Savannah River. The installation coincided with a separate planned outage to implement the Salt Waste Processing Facility (SWPF), which is currently undergoing testing and commissioning. The SWPF will process low-level salt waste accounting for more than 90 percent of waste held in Savannah River's tanks.
The Defense Waste Processing Facility remains in an outage to finish facility upgrades, including maintenance in the chemical process cells, and implement updated safety documents.