Robotics FIRST: Destination Deep Space
Daniel Franklin | March 15, 2019
March means Madness for fans of the U.S. National Collegiate Athletic Association (NCAA) basketball tournament. For fans of battling robots, late winter means kickoff time for the annual FIRST Robotics tournament.
Thousands of high school teams from the U.S., Canada and other countries have taken on the 30th annual FIRST Robotics Competition's 2019 challenge, Destination: Deep Space. The competition started with regional matches on February 25 and will culminate with championships in late April. Engineering360 had a chance to take an inside look at the Tech Valley New York event held March 6-9 in Troy, New York.
Game basics
FIRST Robotics invites high school teams of 30 to 100 members or more to compete in a game that requires them to design and build a robot capable of loading a cargo spacecraft under adverse conditions and time constraints. Robot tasks include preparing a cargo ship and rocket with hatch panels secured with velcro, gathering cargo — balls that represent surface samples from Planet Primus — and loading cargo. Competitors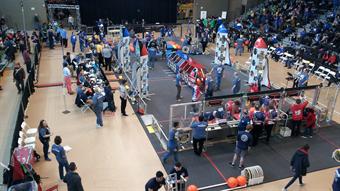 Regional FIRST Robotics competition in Troy, New York. Source: Engineering360earn points for task completion and operating under adverse conditions, among other actions.
Competition is not robot-against-robot but rather two alliances of three robots each against each other. Combining teams into alliances, labeled Red and Blue, allows players to use various strategies, such as having one robot focus on scoring while others concentrate on blocking opponents or other activities depending on the robot strengths.
A match starts when team members place robots on the playing field and the time clock starts ticking. When the match begins, the operators cannot see their robots, which are obscured by a screen that simulates a sandstorm. During this time the robots must be operated either by camera or otherwise, but after 15 seconds the screen is lifted. The teams gain points by placing cargo and hatches in a two-and-a-half minute timeframe. Before the round ends teams can gain additional points by returning to platforms of three increasing heights where the lowest platform is three points, then six and 12 respectively.
Bring on the robots
I had the opportunity to work with the team from Tech Valley High School in Albany, New York, as they built their robot in the six weeks prior to the event. The team of about 30 students had broken up into different groups, one working on CAD design, another building the bot while still others focused on programming and outreach. The different groups work separately and together after school and on weekends to build the bot while still attending their regular classes.
While many of the robots share some commonalities, the ingenuity, craftsmanship and uniqueness of each bot became apparent as they competed. Every team works with the same kit of parts, with rookie teams receiving some extra items. How teams combine mechanics, pneumatics, motors and all sorts of electronics and components, as well as the human operators, gives the bots various attributes. Robot control systems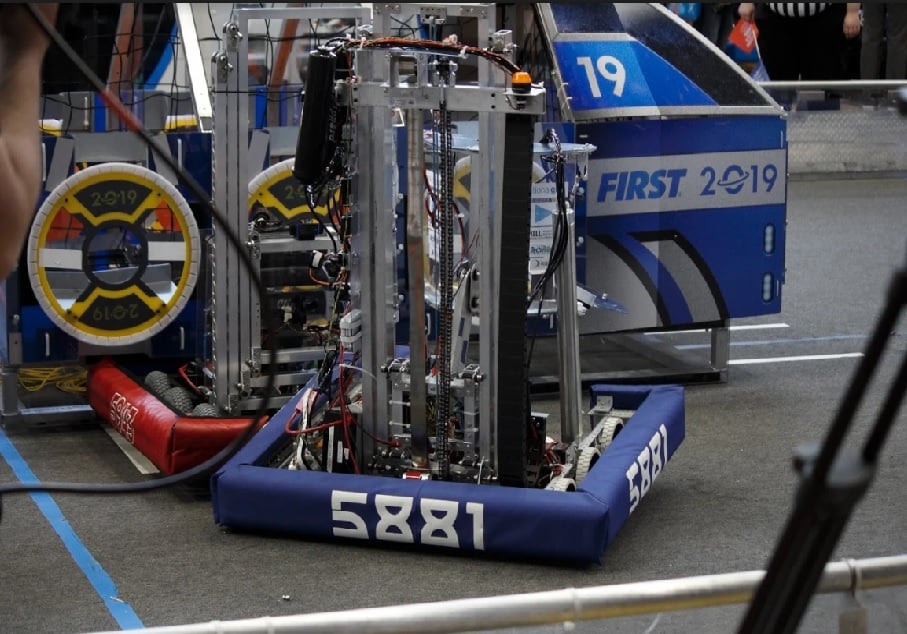 The Tech Valley High School robot, Tip-Z. Source: Engineering360involve joysticks, computers, cameras, networking and all sorts of other complexities.
Once the competition started, the teams could not bring in outside parts but instead had to fix their bots on location with what they had on hand. Time is short during the competition, as I learned from the team I worked with. They replaced a burnt-out motor between rounds and did not have time to test it, only to find out during the match that the motor was wired backwards.
All of this competition is of course in good fun but at the same time challenges students to learn all sorts of skills and gain experience they would not have had otherwise. In addition to building technical skills, competitors follow conduct rules throughout the course of the contest. The competition is also fun to watch.
The Tech Valley team competed against 36 teams from the New York Capital Region, elsewhere in New York state, New Jersey, Canada and Brazil at the New York Tech Valley regional event, hosted by Rensselaer Polytechnic Institute.
Check out the video for more pictures and the robots in action.