Tesla Bot could take on mundane, everyday tasks
Marie Donlon | August 26, 2021
Tesla's Elon Musk has recently announced plans for the development of a prototype robot designed for repetitive tasks.
The artificial intelligence (AI) humanoid robot, dubbed Tesla Bot, will stand at 5 ft 8 inches tall and will weigh around 125 lb, thanks to lightweight materials used in its construction.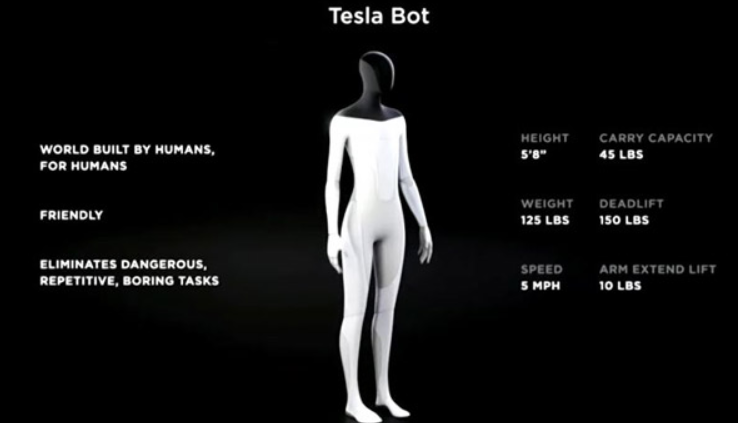 Source: Tesla
According to Musk, the robot will be capable of carrying up to 45 lb and will use the same AI as Tesla's autonomous vehicles. Additionally, the Tesla Bot is expected to move at just 5 mph.
"Basically, if you think about what we're doing right now with cars, Tesla is arguably the world's biggest robotics company because our cars are like semi-sentient robots on wheels," Musk said. "With the Full Self-Driving computer, [ … ] which will keep evolving, and Dojo and all the neural nets recognizing the world, understanding how to navigate through the world, it kind of makes sense to put that on to a humanoid form."
Musk envisions that Tesla Bot will automate repetitive, everyday tasks such as grocery shopping.
The plans were announced during Tesla's inaugural AI Day.