NTSB faults inspection process for rail tank-car rupture
David Wagman | February 15, 2019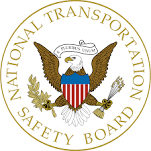 ​The U.S. National Transportation Safety Board (NTSB) issued five safety recommendations in its investigation of an August 2016 chlorine release from a ruptured rail tank car near New Martinsville, West Virginia.
Eight people were injured in the accident in which 178,400 pounds of liquefied compressed chlorine was released after a DOT-105 rail tank car sustained a 42-inch-long crack in its tank shell shortly after being loaded at the Axiall Corporation Natrium plant.
Three safety recommendations were issued to the Pipeline and Hazardous Materials Safety Administration (PHMSA) and one each to the Association of American Railroads and American Railcar Industries, Inc.
The recommendations issued to PHMSA call for:
Promulgation of a final standard that includes enhanced fracture toughness requirements for tank heads and shells for pressure tank cars used to transport poison inhalation hazard/toxic inhalation hazard materials.
Prohibiting use of tank cars transporting poison inhalation hazard/toxic inhalation hazard materials that are constructed of nonnormalized steels and are not constructed of steels meeting the highest available fracture toughness specifications.
Maintenance guidance for owners of DOT-105 pressure tank cars transporting poison inhalation hazard/toxic inhalation hazard materials to establish structural integrity inspection frequency, define critical flaw size, repair and acceptance criteria for fracture-sensitive locations and nondestructive testing methods to detect and identify cracks.
The NTSB said it wants the Association of American Railroads to ensure local post-weld heat treatment processes are sufficiently monitored to avoid damage to tank car materials. And inspection and maintenance procedures to address cracks in cradle pad weld attachments was the focus of the NTSB's recommendation to the American Railcar Industries.
Rupture followed repair
According to the investigation report, the railroad tank car, labeled AXLX1702, was built in June 1979 by ACF Industries and was a 17,388-gallon U.S. Department of Transportation specification-105J500W tank car, also known as a class DOT-105 tank car. The car had a stenciled load limit of 178,400 pounds and a maximum gross rail load of 263,000 pounds.
The tank car was equipped with a stub sill underframe design, which the Federal Railroad Administration noted in a 2006 safety advisory was prone to defects such as tank head cracks, pad-to-tank cracks, sill web cracks, and tank shell buckling that in some instances had led to the release of hazardous materials.
The NTSB report said that Rescar Companies received the tank car in January 2016 to conduct a five-year interior inspection required on chlorine tank cars in accordance with Axiall Corporation maintenance instructions. Inspectors reportedly revealed many corrosion pits across the bottom of the tank shell. A maintenance administration contractor approved repairs. The tank shell crack and chlorine release occurred following its first postrepair loading.
The NTSB determined that the probable cause of the chlorine release was an undetected preexisting crack near the inboard end of the stub sill cradle pad, which propagated to failure with the changing tank shell stresses during the thermal equalization of the car after loading with low-temperature chlorine.
Contributing to the failure was what the NTSB said was Axiall Corporation's "insufficiently frequent stub sill inspection interval" that did not detect the crack, the low fracture resistance of the nonnormalized steel used in the tank car construction, and the presence of residual stresses associated with Rescar Companies' tank wall corrosion repairs and uncontrolled local postweld heat treatment.