Lax Maintenance Led to 2017 Railroad Accident in Iowa
David Wagman | October 31, 2018
A broken rail, and inadequate track maintenance, inspection and federal oversight led to the March 10, 2017, derailment of a Union Pacific Railroad ethanol train near Graettinger, Iowa, according to a National Transportation Safety Board (NTSB) report.
The report also says that the continued use of U.S. Department of Transportation Specification 111 tank rail tank cars in ethanol service, instead of the more robust DOT-117 tank cars, "contributed to the severity of the accident." About 322,000 gallons of undenatured ethanol was released, fueling a post-accident fire that burned for more than 36 hours.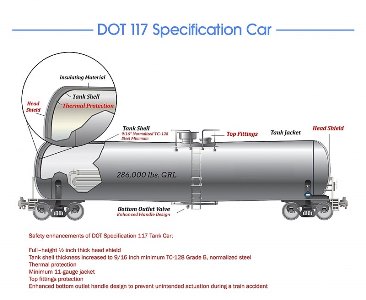 (Click to enlarge.) Key features of the DOT-117 rail car. Credit: U.S. Dept. of TransportationNo one was injured in the accident that forced the evacuation of three nearby homes and caused an estimated $4 million in damage, including the destruction of 400 ft of railroad track and a 152 ft long railroad bridge.
The train consisted of three locomotives, 98 loaded tank cars and two buffer cars filled with sand. Twenty of the 98 loaded tank cars derailed at around 12:50 a.m., and 14 of the 20 derailed tank cars released their cargo of ethanol.
Of these 14, 10 were breached from mechanical damage. Four tank cars with shell damage released ethanol from bottom outlets or top fittings and thermal damage. The report states the use of DOT-117 cars, instead of the DOT-111 tank rail cars involved in the accident, would have mitigated or prevented the release of ethanol from most of the derailed cars.
Replacement Tank Cars
Specification-117 tank cars are scheduled to replace the existing U.S. fleet of ethanol tank cars by May 1, 2023. They are defined as non-pressurized tank cars with a shell thickness of 9/16 in. and insulating material providing thermal protection. The tank cars have protected top fittings, a fully protected head shield and a bottom outlet valve with an enhanced handle which to prevent the tank car from emptying its contents in an incident. All the enhancements are designed to protect the tank from being punctured and to prevent the valves from being disrupted.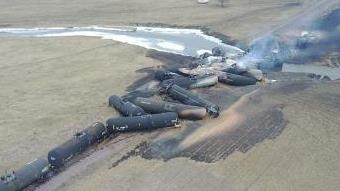 The derailment involved 20 tank cars. Credit: NTSBThe DOT-117 design (TC-117 in Canada) was developed after the Lac-Mégantic rail disaster of 2013. It was announced in May 2015 by the U.S. Federal Railroad Administration (FRA) and Transport Canada (TC).
In the 2013 accident, an unattended 74-car freight train carrying crude oil rolled down a 1.2% grade and derailed in the center of the Quebec town of Lac-Mégantic, Canada, resulting in a fire and explosion. Forty-two people were killed and five more missing and presumed dead.
The NTSB reports that had the tank cars in the Iowa railroad accident been retrofitted or replaced per Specification-117, the breaching damage to the top fittings of the 21st and 25th tank cars could have been avoided. Furthermore, ethanol would not have released from the 22nd tank car had it been equipped with a bottom outlet valve operating mechanism. Tank cars in positions 21 through 40 derailed.
Maintenance Lapse
NTSB investigators concluded that the Union Pacific Railroad was not maintaining the track structure on the Estherville Subdivision -- a region of rail that includes the accident location -- in accordance with FRA minimum track safety standards or its own track maintenance standards.
The NTSB also determined that FRA inspectors did not report all defective crosstie conditions observed in the Estherville Subdivision. Additionally, investigators said that FRA inspectors were not using all available enforcement options to gain Union Pacific compliance with minimum track safety standards.
The NTSB issued three new safety recommendations and reiterated one safety recommendation. The recommendations address training on safety standards and available enforcement options for federal track inspectors, the need for research to determine if safety would be improved by transporting ethanol in an undenatured state and the need for Union Pacific to reexamine track maintenance and inspection program standards on all routes carrying highly hazardous, flammable materials.