Precision bore manufacturing with single-pass honing machines
Gary Kardys | February 12, 2019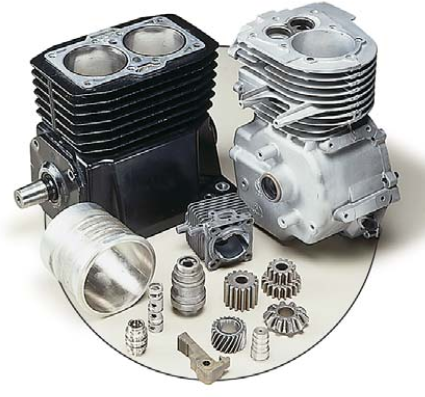 Figure 1. Precision honed bores are a requirement in many applications such as valves, gears, liners, cylinders and bearings. Source: SunnenSingle-pass honing machines can rapidly generate precise bore size, roundness and low Ra surface finish on many part manufacturing applications.
Hydraulic cylinders, fuel injectors, pumps, valves (sliding spool and body), guns, cannons and other parts often require precision bores.
A bore or hole generated using machines for casting, boring, drilling, turning, reaming, grinding, milling, punching, electrical discharge machining (EDM), laser drilling, plasma cutting, broaching or gundrilling has characteristic process-related defects such as burning or oxidation, tool marks or lay, high roughness, residual stress and warpage or distortions. Typically, holes are made oversized and then precision-sized with honing or other methods to specified diameter and tolerances.
Honing provides much more than just highly accurate sizing. Honing corrects the geometry of holes, removes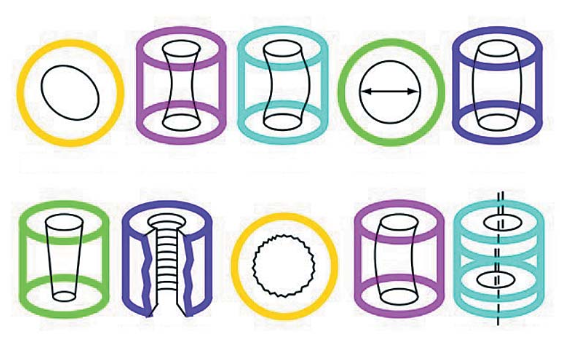 Figure 2. Honing can correct all bore distortions and defects such as out-of-round, wavy, undersize, barrel and taper while providing the optimum surface finish for an application. Source: Sunnensurface damage and produces the surface finish and dimensional tolerances required for an application.
Geometric errors or distortions can include out-of-roundness, bellmouth, axial straightness, waviness, undersize, barrel, taper, boring marks, reamer chatter, rainbow and misalignment that result from grinding, heat treatment, forming, machining or other specialized manufacturing processes.
The diameter of the precision bores must meet tight dimensional tolerances to assure proper fit and lubrication gaps between components. The bore geometry, such as roundness and taper, is another critical attribute important to fit and function in higher-performance rotating machine applications. Surface finish parameters such as roughness (Ra, RMS, Rz), spacing (PC, Sm) and waviness (Wa, Wt) parameters also must be attained during manufacturing to reduce friction in machinery, attain leak tightness and enhance flow in the fluid transfer application.

Bore size and dimensional variations are measured with Bore and ID Gages, Plug and Pin Gages and Dimensional Gages and Instruments. Geometrical quality is ascertained using Form Gages and Form Gaging Systems. Surface finish parameters are determined using Surface Profilometers and Surface Finish Comparators.
Precision bore manufacturing
Figure 3. Achievable size accuracy and surface quality for different machining methods. Source: Koenig, et al., Production Methods, Volume 2, VDIHoning, abrasive flow machining (free form or "extrusion hone"), helical or cylindrical lapping, internal diameter (ID) grinding and brush or flex honing are used in finishing internal surfaces of bores.
Abrasive flow machining and brush honing remove burrs and generate great surface finishes, but these processes cannot provide the dimensional and geometric control inherent to honing. ID grinding can correct geometry and dimensional tolerances, but this technique is limited to larger bore sizes. Helical lapping can control dimensions, geometry and surface finish, but processes like lapping and extrusion honing use loose abrasives, which are messy, easily contaminated and difficult to control.
In certain applications, a combination of honing and lapping is required to meet all of the geometry and finish requirements. Honing is often the go-to process for manufacturing precision bores with the correct geometry, dimensions and surface finishes required for many end-uses.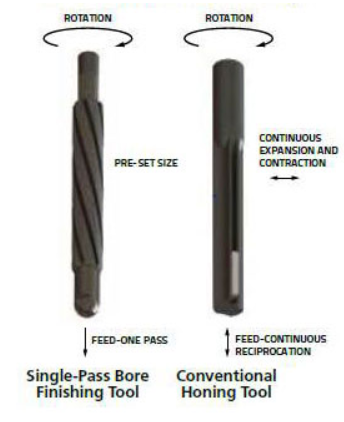 Figure 4. Comparison of conventional multistroke and single pass honing. Source: Engis Corp.Conventional honing (stroke honing or multistroke honing) with rigid hones can be divided into rough honing, finish honing and microhoning, or superfinishing. Honing, lapping and superfinishing are performed under low speed and pressure conditions. This results in a gentle action when compared to grinding and machining processes. The low pressure and speeds keep the workpiece cooler. The gentle material removal can remove surface and subsurface damage remaining from machining, grinding, laser and EDM processes.
In the honing process, small hones, bonded abrasive stones or superabrasive sticks are mounted in a fixture that rotates and reciprocates (strokes) when applied to the surface or bore being finished.
As an alternative, the hone may reciprocate or oscillate while the workpiece rotates. This technique is useful on large bores. Honing processes are typically grouped in manual stroke and power stroke types. In manual honing, the hone oscillation is controlled by an operator. Power stroke honing employs a power driven, automated stroke or reciprocation cycle, which can be can be programmed to provide consistent and reproducible surface finishes, geometries and lay patterns.
Multistrole honing produces a distinct crosshatch lay pattern on bore surfaces. The lay line angle or pattern is specified on high-accuracy component drawings. The generation of the required lay pattern can be programmed precisely on modern automatic power stroke honing machines. Final lapping might be required if a mirror finish is needed for a flow or optical application. In many sliding or rotating contact machine applications, a fine lay pattern is desirable because the scratches retain lubricant during end use.

Honing, Lapping and Superfinishing Machines: Supplier list, SpecSearch® form and Learn More Specification Guide
Single-pass honing process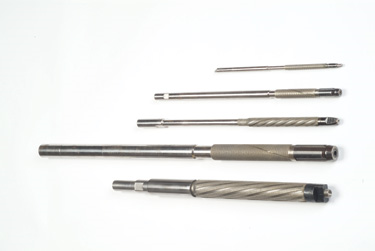 Figure 5. Single Stroke Honing Tools are plated single layer diamond superabrasive hones. Only two diamond finishing sleeves (220 grit and 400 grit) are sufficient to meet most honing needs. Source: SunnenThe single-pass honing process manufactures a smoother, geometrically accurate precision bore in one stroke. The process eliminates the need to use several different machine tools or many tool changes with rough, finish and superfinishing honing stones. A single-pass honing is also referred to as "diamond sizing" because the process is heavily reliant on superabrasive or diamond hones.

In conventional or stroke honing, the hone expands inside the bore and the tool then oscillates. Honing continues until an internal air gage indicates the proper sizing is attained.
Several fixed diameter hones like reamers are used. The bore size is generated by passing the part through several fixed hones with progressively increasing diameters. Each honing tool only goes through the bore once. After the final pass, the bore is to size, straight and round, with the desired surface texture. Single-pass honing is a fast and accurate method of manufacturing certain bores to the final size, shape and smoothness specifications.

Sunnen Products Company has tools and machines, which provide tangible examples for understanding the single pass honing process.
Sunnen's Single Stroke honing tool utilizes an expandable, superabrasive sleeve mounted on a tapered arbor. During setup, the sleeves are expanded to the required size. The hone diameter remains fixed and no adjustments are necessary during the honing operation. While only two diamond finishing sleeves (220 grit and 400 grit) are sufficient to meet most honing needs, diamond sleeves as coarse as 70 grit and as fine as 1,200 grit are available from Sunnen.
Once the bore is qualified or sized with a coarser grit sleeve, a 400 grit or finer diamond final hone can generate extremely smooth surfaces with surface finish and lay pattern. Single-pass hones are capable of honing up to tens of thousands of parts before replacement or replating.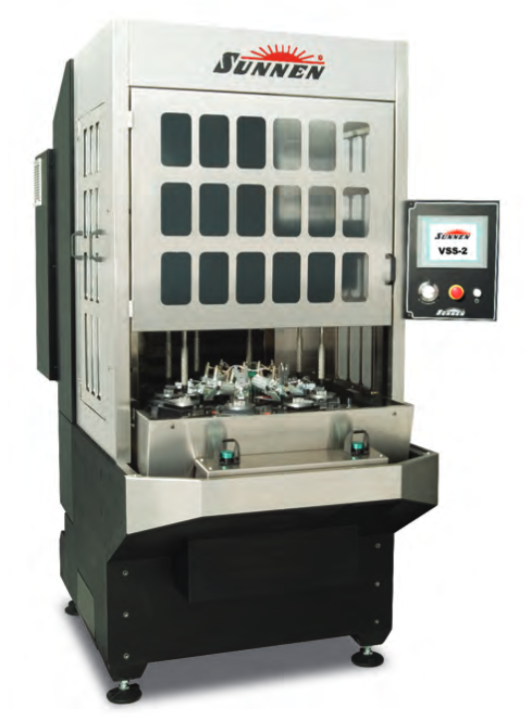 Figure 6. The VSS-2 Single Stroke Honing System is a compact, rugged system that delivers precise bore size, geometry and surface finish control. Source: SunnenA single-pass honing machine like Sunnen's VSS-2 Series 2 Single Stroke honing machine has multiple spindles each with a different size fixed diameter hone. Parts are mounted in stations on a rotary table, which rotates to progress bores through the required diamond hones. Moderate to high production levels can be met by selecting one of the three VSS-2 series 2 models: the 84 (eight-station, four-spindle), the 86 (eight-station, 6-spindle) and the 64 (six-station, four-spindle).
In many cases, a single stroke honing machine tool can process thousands of bores per hour. The VSS-2 machine is designed with "lubed for life" linear slides, a cast iron spindle carriage, a thermal-resistant composite base and a thick steel tooling plate combine for high productivity, durability and low maintenance. The machine operates through a front control panel interface, which helps less skilled operators to produce high accuracy hone bores.
Nagel USA and Engis Corporation also provide single-pass honing machines and tools such as the Nagel PVT Precidor honing system and Engis three-axis single-pass bore finishing system (FPM-3X).
Hones and Honing Tools: Supplier list, SpecSearch® form and Learn More Specification Guide
Advantages and limitations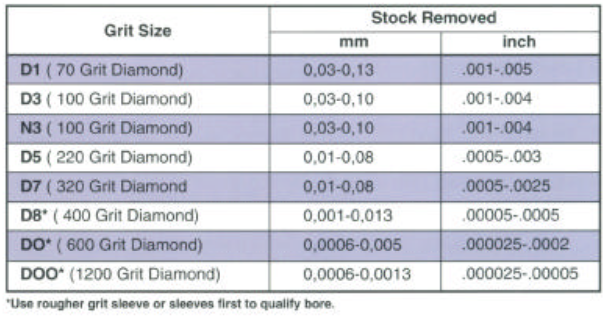 Figure 7. Material removal for various single-pass or single-stroke diamond hone grit sizes. Source: SunnenWhile single-stroke honing can provide cost and productivity enhancements in precision bore manufacturing, understanding the limits and suitability of the process is important in assessing the process for specific cases.
Single-stroke honing is suitable or optimal for honing materials such as cast iron, powdered metals, ceramic, glass, graphite and other free-cutting materials. In most cases, hardened steels with hardness above 55 Rockwell C are more effectively honed using conventional multistroke honing or Krossgrinding.
Automotive powder forged or wrought connecting rods are usually manufactured from soft alloys. These components require both crank and pin bores to be honed. Through-bored soft alloy parts with hardness less than 35 Rockwell C typically can be single-pass honed up to twice as fast compared to conventional honing.
Short or shallow bores with length to diameter (L/D) of 1:1 or less often are ideal. Cylindricity and straightness of 1 micron can be achieved in 1:1 bores and 2 microns in 10:1 bores. Cast iron valve bodies with 10:1 bores and greater are routinely honed with single stroke machines. Blind bores are not suitable for single stroke honing because the process relies on the travel of the superabrasive hone for ID material removal. Splined bores can be finished in cases where clearance is available for swarf or chip removal. Thin components with through bores are advantageous for single pass honing because fixturing thin parts for multistroke honing is difficult.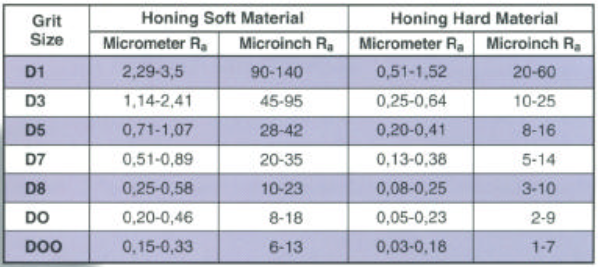 Figure 8. Surface finishes generated with various single pass or single stroke diamond hone grit sizes. Source: SunnenSingle-stroke honing generates a different lay pattern compared to conventional multistroke or oscillatory honing. Single stroke honing machines create a unidirectional spiral pattern on a bore's internal surface. In certain applications such as bearings and seals, the crosshatch pattern of conventional honing performs better. In some applications, single-pass honing can generate a certain size and geometry, followed by a final multistroke honing step for surface finish and lay pattern generation. While this might seem to require an investment in two machine tools, some honing machines can perform both single pass and multistroke honing.
Productivity gains
Single-pass honing machines can be a great choice for many applications requiring high accuracy bores made in a rapid, economical manner. Manufacturers adopting single-pass honing can reap benefits in productivity from high throughput rates, consumables cost reduction from long-life diamond tooling, reduced dependence on skilled operators and part quality enhancements. Since single-pass honing requires minimal operator intervention, the machine tools provide a step toward realizing highly automated, "lights out" manufacturing plants.
Resources
The Honing Book – HONING Technology, Tools and Machines
VSS Series 2 Single Stroke Honing System
Single Stroke Honing Tooling Selection
X-DPT-1002: Sunnen Precision Diamond Plated Honing Tools
Use SpecSearch® to find Honing, Lapping and Superfinishing Machines by Specification: