Rigid couplings for food equipment
Engineering360 News Desk | June 09, 2021
The high torque capacity, accuracy and repeatability of rigid couplings from Ruland Manufacturing Company make them the ideal choice for food equipment. Designers of food processing, baking, and packaging equipment benefit from the Nypatch anti-vibration hardware, precision honed bores and high torque of these components.
Applied to several screw threads, the 360-degree coating allows for multiple screw insertions and provides the necessary dissimilar material to prevent galling on stainless steel type couplings. Significant time is saved in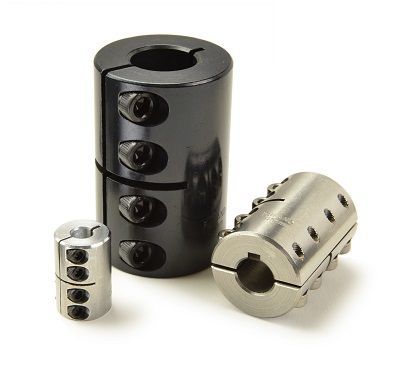 Source: Ruland Manufacturing Companyassembly as hardware needs no additional treatment prior to use.
The rigid couplings are manufactured in 1215 lead-free steel with a proprietary black oxide finish for general purpose food applications, 2024 aluminum for low inertia and 303 stainless steel for sanitized environments. Two-piece rigid couplings have a balanced design for reduced vibration and improved system performance.
The couplings are available in one- and two-piece clamp and set screw styles with inch or metric bores in straight or step configurations giving systems designers a wide variety of standard options to choose from. Bore sizes range from 1/8 in to 2 in and 3 mm to 50 mm. Special configurations such as no cross-cut, 316 stainless and inch-to-metric bores are available by request.