Achieving Ultra-Low Friction Without Oil Additives
John Simpson | October 17, 2016
A new process for treating metal surfaces can improve their ability to bond with oil, potentially reducing friction in piston engines and other equipment without the use of special oil additives.
"About 50% of the mechanical energy losses in an internal combustion engine result from piston assembly friction," says Michael Varenberg, assistant professor of tribology at the Georgia Institute of Technology, which carried out the research in conjunction with Technion - Israel Institute of Technology. "So if we can reduce the friction, we can save energy and reduce fuel and oil consumption."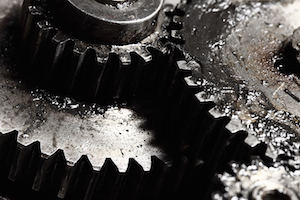 The researchers treated the surfaces of cast iron blocks by blasting them with mixture of copper sulfide and aluminum oxide. Image credit: Georgia Tech.In the study, the researchers treated the surfaces of cast iron blocks by blasting them with a mixture of copper sulfide and aluminum oxide. The shot peening modified the surface chemically, changing how oil molecules bonded with the metal and leading to a superior surface lubricity.
"We want oil molecules to be connected strongly to the surface," Varenberg notes. "Making the surface more active chemically by deforming it allows for replacement reaction to form iron sulfide on top of the iron. And iron sulfides are known for very strong bonds with oil molecules."
Oil is the primary tool used to reduce the friction that occurs when two surfaces slide in contact. The new surface treatment results in an ultra-low-friction coefficient of approximately 0.01 in a base oil environment, which is about 10 times less than the friction coefficient obtained on an untreated surface, according to the researchers.
According to Varenberg, the result surpasses the performance of the best current commercial oils and is similar to that of lubricants formulated with tungsten disulfide-based nanoparticles. Critically, however, the process does not use any expensive nanostructured media.
This method for reducing surface friction is flexible, and similar results can potentially be achieved, the researchers suggest, via processes other than shot peening, such as lapping, honing, burnishing or laser shock peening. Use of these alternative methods would make it easier to adapt the process to a range of uses and industries.
Varenberg says the scalable process for realizing ultra-low friction could significantly reduce energy losses on an industrial scale and, ultimately, spark new direction and advances in surface science and engineering.