Sea breeze prediction for offshore wind resource assessment
S. Himmelstein | January 24, 2019
Offshore wind energy systems are increasing in size and number, which in turn generates increased demand for reliable wind forecasting data to ensure consistent performance. Wind turbine construction planning, operations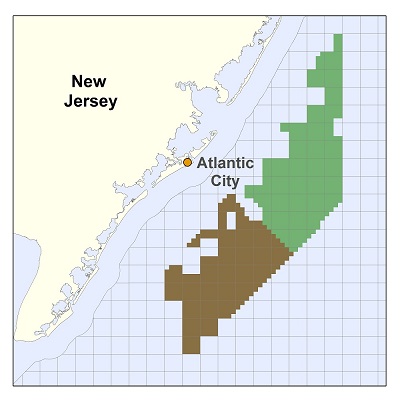 The New Jersey Wind Energy Area, where hundreds of wind turbines may eventually be built, is shaded green and brown. Source: U.S. Bureau of Ocean Energy Management, U.S. Department of the Interiorand maintenance are expected to benefit from a statistical analysis method combined with a weather forecasting model to analyze near-shore and offshore sea breeze regimes.
Researchers from Rutgers University and Jerusalem College of Technology in Israel assessed sea breezes that cross the federally designated New Jersey Wind Energy Area and observed that sea breezes often arise on hot summer afternoons when energy demands peak. Conditions shift when winds from the southwest push warm surface water away from shore, causing upwelling of much colder bottom water that hits beaches and results in offshore sea breezes starting about five hours earlier than normal and becoming more intense. Winds blowing over coastal lands were shown to keep near-shore sea breezes from moving inland, but land-based winds have little impact on sea breezes offshore.
The research, which is published in the Journal of Geophysical Research: Atmospheres, will render offshore sea breezes more predictable for the offshore wind sector.