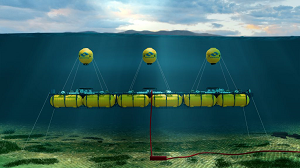 The quarter-scale WaveSub prototype will be tested in a broad range of sea conditions. Source: Marine Power Systems
The quarter-scale prototype WaveSub wave energy generator designed by Marine Power Systems has entered the sea testing stage.
The energy generation device, built and assembled in Wales, has been designed to address the challenges of energy generation at sea, including resilience under harsh weather conditions, low-cost maintenance and efficient energy capture.
Each 100-m long, 5-MW device will have a similar power output to a very large offshore wind turbine and can power approximately 5,000 homes. Designed to operate around 10 km from shore, the WaveSub functions with a power-take-off system using undersea cables to transfer electricity to shore. It can "hide" from storms with its unique depth-adjustment ability, minimizing stress placed on the equipment and optimizing energy generation in a range of sea states.
The WaveSub will now be deployed at marine energy test site FaBTest in Cornwall, England. The company plans to begin installation of a grid-connected wave farm by 2020.