Elder care robot tested in WSU smart home
Marie Donlon | January 15, 2019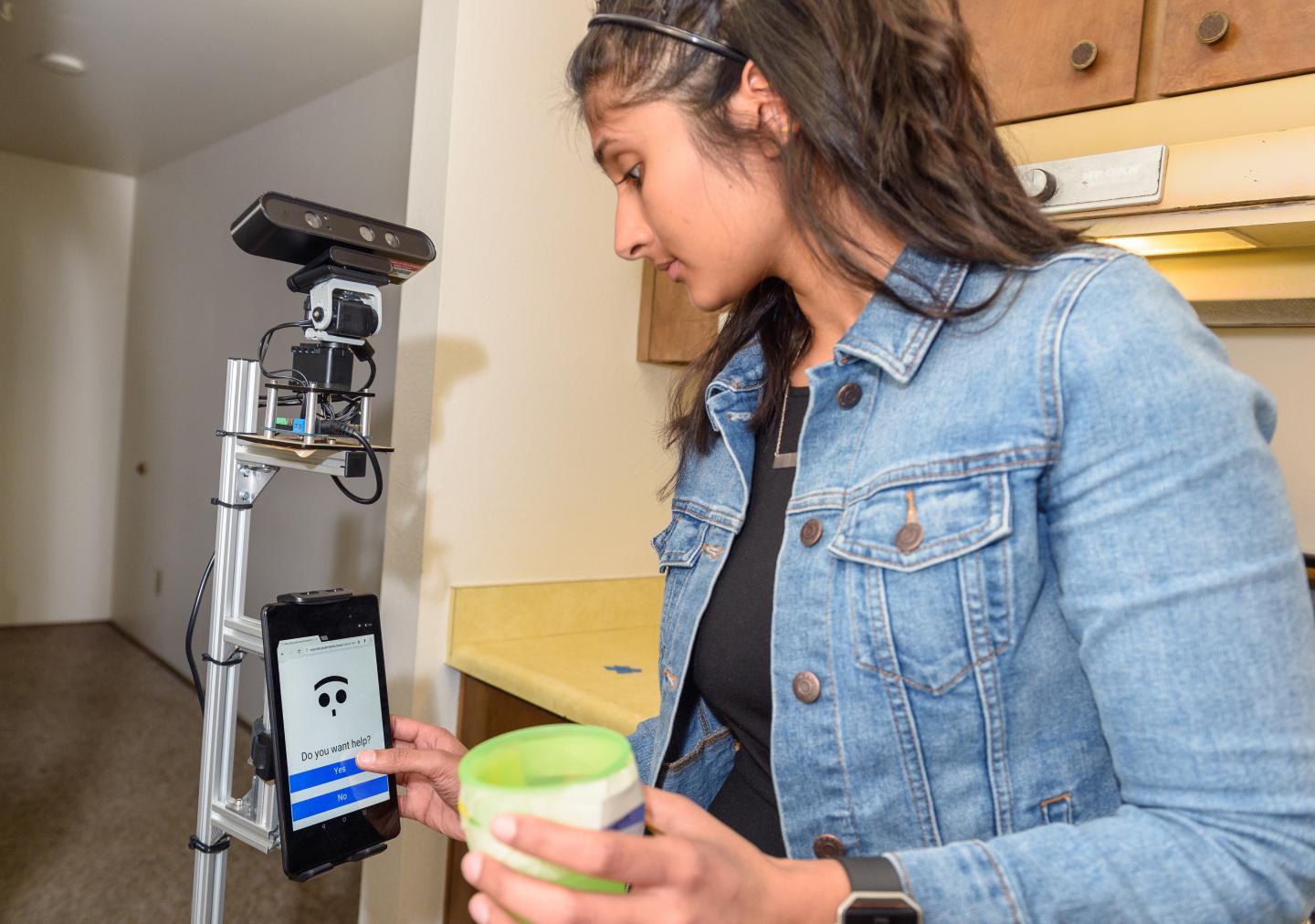 RAS assists a person in a WSU smart home apartment. Source: WSU
Scientists at Washington State University (WSU) have developed a robot with the potential for keeping elderly people with dementia and other limitations living in their own homes longer.
Using sensors embedded throughout a WSU smart home, the Robot Activity Support System, otherwise known as RAS, can locate where residents of the home are and what their needs might be. RAS can travel through the home avoiding obstacles while in search of the residents and offer them help with activities of daily living in the form of video instructions that demonstrate how to complete specific tasks or by leading residents to their medications or snacks.
"RAS combines the convenience of a mobile robot with the activity detection technology of a WSU smart home to provide assistance in the moment, as the need for help is detected," said Bryan Minor, a postdoctoral researcher in the WSU School of Electrical Engineering and Computer Science.
To test RAS, researchers enlisted the help of over 25 WSU students to accomplish three tasks using RAS as an assistant. If the participants exhibited any signs that they could not complete the tasks, which included walking a dog, watering plants and taking medication, the smart home sensor would alert RAS. The system would then locate the participant using a combination of its mapping and navigation camera, software and sensors.
Using a tablet interface, the participant struggling to accomplish the task could request that RAS show them an instructional video detailing the steps involved in completing the task. The participant could also request the tools necessary — such as a leash for walking the dog — to complete their task.
Receiving a favorable performance rating from the participants, RAS may one day reduce the estimated $2 trillion price tag associated with providing an estimated 50% of U.S. adults over the age of 85 with assistance in their daily activities of living each year, according to the makers of RAS. The WSU researchers expect that systems like RAS will alleviate some of the financial burden on the healthcare system by keeping the elderly at home longer.
"Upwards of 90 percent of older adults prefer to age in place as opposed to moving into a nursing home," the researchers said. "We want to make it so that instead of bringing in a caregiver or sending these people to a nursing home, we can use technology to help them live independently on their own."
Although still in the early stages of development, WSU scientists are calling RAS' performance results promising and intend to test the system out on groups of older adults.
The research appears in the journal Cognitive Systems Research.