Report: Pumped Storage as the World's Water Battery
S. Himmelstein | December 20, 2018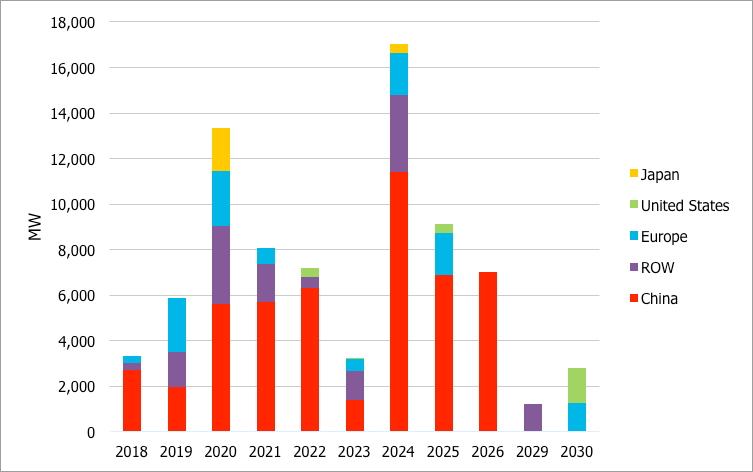 Projected installed capacity additions from 2018 to 2030 broken down by country and region. Source: IHA
The benefits of pumped hydropower storage technology are highlighted in a new International Hydropower Association (IHA) report. The existing 161,000 MW of pumped storage capacity accounts for over 94% of available energy storage capacity worldwide and contributes to power grid stability while reducing overall system costs and sector emissions.
With the addition of 100 currently planned projects, pumped hydropower storage capacity is projected to increase by almost 50% to 239,000 MW by 2030. Driving factors of such growth — the bulk of which is projected for China and Europe — are increased development of solar and wind energy resources, new grid flexibility requirements and reduced dispatchable generation.
Relevant technology is evolving in response to changing power system requirements associated with variable renewable energy resources. Higher penetration of variable resources at lower system cost is supported by the use of variable-speed and ternary pumped storage systems that expand power system operating range and increase flexibility.
Market and regulatory structures must also evolve to attract investment and incentivize development.