IEA report: Hydropower is key to reaching net zero by 2050
S. Himmelstein | July 15, 2021
Hydropower has a key role in the transition to clean energy through the production of low-carbon electricity and by providing grid flexibility and storage. Many hydropower plants can ramp their electricity generation up and down very rapidly compared to other power plants such as nuclear, coal and natural gas. This makes sustainable hydropower an attractive foundation for integrating greater amounts of intermittent wind and solar power.
In 2020, hydropower supplied one-sixth of global electricity generation, making it the single largest source of low-carbon power, and global hydropower capacity is expected to increase by 17% between 2021 and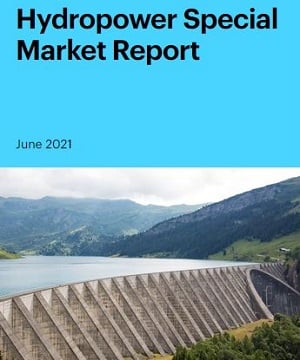 Source: IEA2030, according to the International Energy Agency (IEA). However, the projected growth for the 2020s is nearly 25% slower than hydropower's expansion in the previous decade. Reversing the expected slowdown will require strong policy actions from governments to address the major challenges that are hampering the faster deployment of hydropower.
To that end, the IEA has outlined seven key priorities for governments looking to accelerate the deployment of hydropower in a sustainable way:
Move hydropower up the energy and climate policy agenda
Enforce robust sustainability standards for all hydropower development with streamlined rules and regulations
Recognize the critical role of hydropower for electricity security and reflect its value through remuneration mechanisms
Maximize the flexibility capabilities of existing hydropower plants through measures to incentivize their modernization
Support the expansion of pumped storage hydropower
Mobilize affordable financing for sustainable hydropower development in developing economies
Take steps to ensure to price in the value of the multiple public benefits provided by hydropower plants