Breast Cancer Biomarker Quickly ID'd with Printed Sensor
Engineering360 News Desk | December 13, 2018
Testing for the human epidermal growth factor receptor 2 (HER2) protein as a biomarker for certain types of breast cancer requires a biopsy and frequently a two-week wait time to receive results. A less invasive and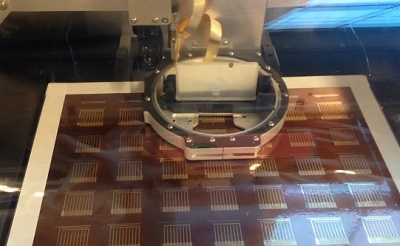 An inkjet printer layers gold nanoparticle ink constructing a batch of biosensors capable of forming the detection platform for a breast cancer protein in blood. Source: Colleen E. Krause/ University of Hartfordcost- and time-intensive diagnostic solution has been inkjet-printed by researchers from the University of Connecticut and the University of Hartford.
The electrochemical biosensor is fabricated with integrated electrodes for less than $0.25 and is designed to detect HER2 in a blood sample within 15 minutes. Nanoparticle inks are deposited onto a plastic substrate during the printing process to form an eight-electrode array coated with biomarker-specific antibodies. This component works in concert with a microfluidic device that directs blood flow through the sensor.
HER2 proteins are present in a sample bind with the antibodies and their concentration is reflected in an electrical signal generated as a chemical solution reacts with these constituents within the chip.
The researchers demonstrated a clinically relevant limit of detection of 12 pg m/L as well as excellent reproducibility and sensitivity. The device will next be fine-tuned to identify multiple biomarkers and to reduce its size.