Essential Oils May Be Used to Combat Persistent Forms of Lyme Bacteria
Engineering360 News Desk | December 06, 2018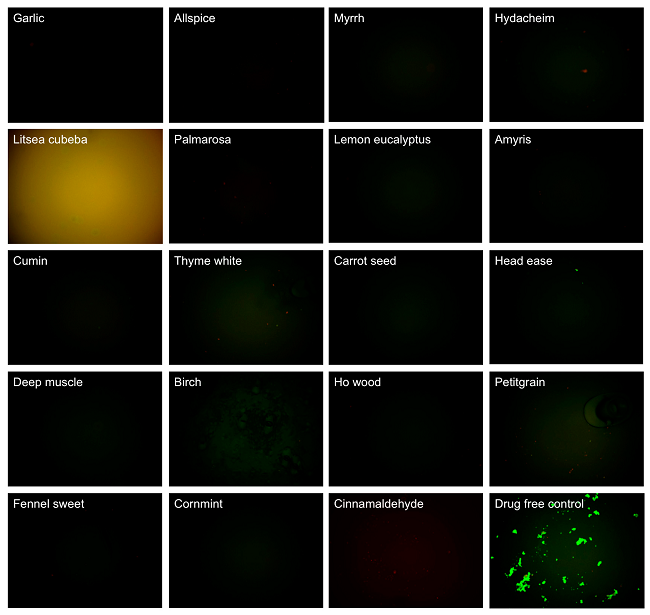 A 7-day old B. burgdorferi stationary phase culture was treated with 0.2% (v/v) essential oils for seven days followed by staining with SYBR Green I/PI viability assay and fluorescence microscopy. Source: Johns Hopkins University
The medical value of essential oils derived from plants is the subject of ongoing research. Ten such oils have been demonstrated to exert strong activity against the bacterium responsible for Lyme disease.
While standard treatment with doxycycline or an alternative antibiotic for a few weeks usually clears the infection and resolves symptoms, about 10-20% of patients report persistent symptoms including fatigue and joint pain indicative of persistent Lyme infection or post-treatment Lyme disease syndrome (PTLDS). Cultures of Lyme disease bacteria, Borrelia burgdorferi, can enter a stationary phase in which many of the cells divide slowly or not at all. These persister cells can form naturally under nutrient starvation or stress conditions, and are more resistant to antibiotics.
Laboratory dish tests of 35 essential oils revealed that 10 of these, including oils from garlic cloves, myrrh trees, thyme leaves, cinnamon bark, allspice berries and cumin seeds, showed strong killing activity at concentrations of just one part per thousand against dormant and slow-growing "persister" forms of the Lyme disease bacterium. At this concentration, oils derived from garlic bulbs, allspice berries, myrrh trees, spiked ginger lily blossoms and may change fruit effectively killed all stationary phase Lyme bacteria in culture dishes in seven days, and no bacteria grew back in 21 days.
Tests with animal models are planned, after which human trials will be conducted.
The research conducted by scientists from Johns Hopkins University and the International Alzheimer Research Centre (Switzerland) is published in the journal Antibiotics.