Microfluidic platform speeds Lyme disease diagnosis
S. Himmelstein | October 17, 2019
Lyme disease, which is spread by infected ticks, is contracted by about 300,000 people annually in the U.S.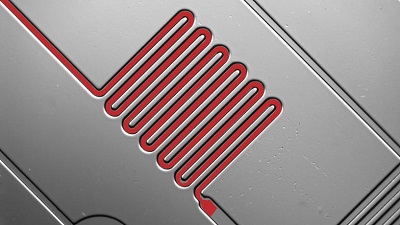 Zoomed photo of fluid moving through a small channel in the microfluidic chip. Source: Columbia UniversityDetection requires trained personnel to conduct complex, time-intensive assays. A simpler and faster diagnostic method based on microfluidics has been devised by Columbia University, Immuno Technologies and OPKO Health for point-of-care use.
The new assay detects three biomarkers of Lyme disease in patient samples, and demonstrates greater sensitivity than traditional Lyme detection tests based on enzyme-linked immunosorbent assay and Western blot methods. The mChip-LD microfluidic platform also returns results in 15 minutes instead of the hours needed to complete the traditionally used assays. The device appears to be better at diagnosing early stage Lyme disease and can detect antibodies present in the blood in the first few weeks after a patient contracts the disease.
With additional refinements, the researchers hope to advance the development of a single, rapid, multiplexed diagnostic test for point-of-care use that can be designed to identify different Lyme disease stages.