Lowering Fuel Cell Cost with Quinone Mediators and Cobalt
S. Himmelstein | October 03, 2018
In a traditional fuel cell, the electrons and protons from hydrogen are transported from one electrode to another to combine with oxygen and produce water. While the process converts chemical energy into electricity, a catalyst is needed to accelerate the reactions. The catalysts are typically platinum-based, undermining the economic competitiveness of fuel cells.
Less-expensive metals can serve as fuel cell catalysts but only if used in large quantities. But a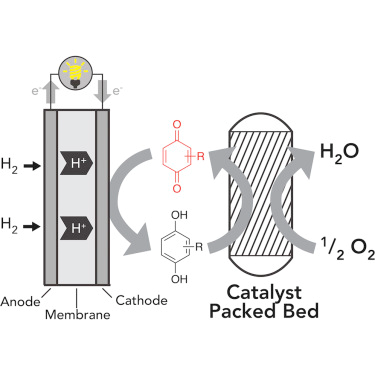 The fuel cell produces about 20% of what is possible in commercial hydrogen fuel cells but is about 100 times more effective than biofuel cells that use related organic shuttles. Source: Matt Wisniewski, University of Wisconsin Madisonttaching too much of a catalyst to an electrode renders the material less effective and reduces energy efficiency.
A solution advanced at the University of Wisconsin Madison is to install cobalt, a lower-cost metal, into a reactor nearby, where the larger quantity of material doesn't interfere with performance. Electrons and protons are transported back and forth from this reactor to the fuel cell by use of quinones, which can shuttle two electrons and protons simultaneously. The organic compound retrieves these particles at the fuel cell electrode, transports them to the nearby reactor filled with the inexpensive cobalt catalyst and then returns to the fuel cell to start the process again.
The quinone structure was modified to yield an ultra-stable derivative resistant to the decomposition into a tar-like substance that undermines this agent's service life. The altered compounds proved functional for up to 5,000 hours for a more than 100-fold increase in lifetime compared to previous quinone structures.
As the energy output of this new design produces about 20% of what is possible in commercial hydrogen fuel cells, the next research step is to improve the capacity of quinone mediators to shuttle electrons more effectively and produce more power.
The research is published in the journal Joule.