From Cloud Computing to Cloud Manufacturing
Ken Thayer | September 21, 2018
Cloud computing is a virtualized computing infrastructure - referred to as the cloud - that allows businesses or individuals to store files and access applications on demand anywhere in the world, provided they have internet access. Manufacturing has begun leveraging the cloud to scale their business while reducing costs and inefficiencies, decreasing the cycle time and increasing collaboration.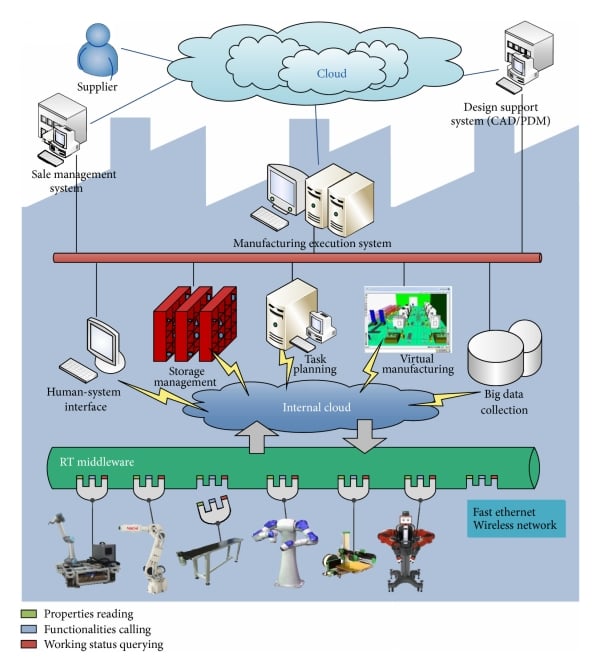 Source: Wenshan Wang, Xiaoxiao Zhu, Liyu Wang, Qiang Qiu, Qixin Cao. Ubiquitous Robotic Technology for Smart Manufacturing System, Computational Intelligence and Neuroscience The trend for industry toward automation and the use of cloud computing and the Internet of Things (IoT) is referred to as Industry 4.0 (the fourth industrial revolution) and is bringing together smart factories connected through the internet.
Cloud manufacturing (CMfg) is a part of this revolution and is a new way for manufacturing companies to conduct business by utilizing tools such as cloud computing, enterprise resource planning (ERP) software and the IoT. Combining these technologies permits the creation of self-service tools, increased production efficiency and real-time tracking and management of the manufacturing process - any time, from any place.
One apprehension many companies have before embracing CMfg is the issue of data security. Despite concerns over such events as the hacking of Apple iCloud, users should be comfortable that their data is secure in the cloud if stored with reputable cloud storage providers.
Cloud storage providers encrypt data when it is uploaded to the cloud. Access to the data requires the encryption key, which is difficult to decipher. Users of cloud storage should also take care to keep their passwords secure and use good password creation practices.
Most companies already use the cloud: a January 2018 survey by RightScale indicated that 96% of respondents use the cloud, with a multi-cloud strategy preferred by most enterprises.
CMfg frees IT personnel from having to keep cloud-based applications up-to-date or troubleshoot software issues. It also eliminates the need to maintain obsolete ERP systems and the costs associated with this maintenance. Low monthly fees also eliminate the need for expensive upfront capital investments and upgrades. Other benefits include streamlined communication between various departments and job functions, providing better tracking and easier management.
CMfg transforms manufacturing resources and capabilities into online services. These services extend through the entire manufacturing cycle, from design to simulation, prototyping, purchasing and production. Data from these multiple sources can be visualized in a single dashboard.
Just as cloud computing has become commonplace, CMfg will continue to emerge and grow as manufacturers realize the benefits that it can bring.