Bosch Launches Cloud Network for the Internet of Things
By Engineering360 News Desk | March 18, 2016
Starting in 2017, engineering and electronics company Bosch is launching its Internet of Things (IoT) cloud network as a service to companies. The company's IoT Cloud, which operates from its computing center near Stuttgart, already connects more than five million devices and machines on behalf of its existing customers.
In cloud computing, data and programs are no longer hosted on computers in homes or offices, but rather in a cloud computing center. The center's operator is responsible for security and operations, makes the required computing capacity available and provides the necessary programs, data security and backups. This relieves customers of many costly and time-consuming tasks. Cloud technology and cloud platforms form the basis for fast, simple scalability of applications.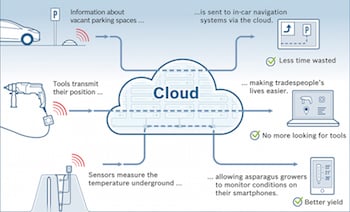 Cloud computing is an essential technology for the Internet of Things. Image credit: Bosch.The software core of the Bosch IoT Cloud is the company's IoT Suite, which identifies objects that are web-enabled and orchestrates their exchange of data. "It offers all the functions necessary to connect devices, users and companies," says Bosch CEO Volkmar Denner.
"Rules" for automatic decisions can be stored in the Bosch IoT Suite—such as when patterns of wear and tear should be reported and preventative action taken to service machinery. Big data management allows enormous amounts of data to be analyzed.
Denner says that intelligently connected devices, served by a cloud network, will be the basis for any number of new IoT business models that "improve people's quality of life and conserve natural resources."
One example is a Bosch IoT Cloud service for heating technicians that gives them remote access to authorized Bosch heating systems so they can troubleshoot problems in the event of a breakdown. This means they can bring along any required replacement parts on their first, and only, service visit. Customers benefit from lower service costs.
Additional examples include:
· Bosch's Smart Home System can tell users the current temperature in their home and let them change the setting while they are still on the road.
· Farmers can improve their harvest and yield if they know the exact temperature of the ground—which can be gleaned from sensor data from their fields that is subsequently transmitted to Bosch's IoT Cloud.
· A book-and-park service allows trucks to send their location data to the Bosch IoT Cloud, which reserves an available parking space nearby and informs the driver.