The World's First Fully Autonomous Self-Driving Vehicle
Shawn Martin | September 13, 2018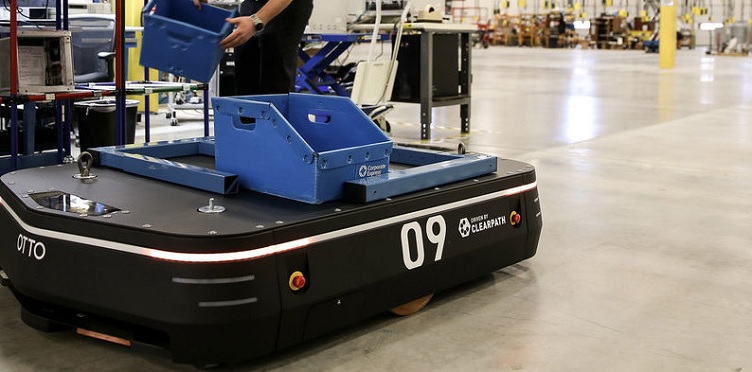 Source: OTTO Motors
The introduction of self-driving vehicles on the factory floor could be pushing automated guided vehicles (AGVs) into obsolescence. Self-driving vehicles that incorporate new technologies like advanced sensors, 3D vision, robotics and artificial intelligence are poised to revolutionize material handling operations. A new entry into this market, introduced at this week's International Manufacturing Technology Show in Chicago, claims to be the first fully self-driving lift truck.
Otto Motors announced the launch of Otto Omega, which is capable of reacting to changes on the factory floor in real time. The Otto Omega relies on powerful artificial intelligence coupled with information communicated through advanced sensors to execute tasks successfully, constantly learning and adjusting to its environment. The vehicle handles floor-to-floor deliveries autonomously; it can also work semi-autonomously with humans to handle complex loading or unloading tasks.
The core of the autonomous vehicle is its artificial intelligence. The Omega learns new skills to do new jobs with every software update. Autonomous operations include pick-ups and drop-offs of skids, cross-dock transport of dunnage, delivery of parts to lineside and reception of items to be put away. It also operates semi-autonomously, allowing workers to take over and manage the loading and unloading of pallet deliveries.
To support their next-generation solutions, Otto Motors developed their centralized Fleet Manager control system. Fleet Manager allows operators to connect and manage a fleet of self-driving vehicles, helping them to improve production processes and achieve high levels of efficiency and control.