UGA Working on Biodegradable Straws
Marie Donlon | August 22, 2018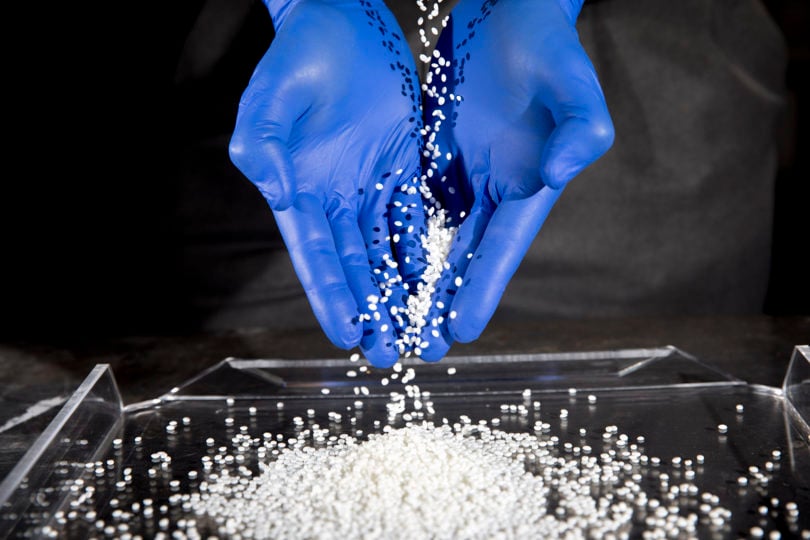 Detail of resin beads and researcher's hands. Source: Dorothy Kozlowski/UGA
With the number of bans on single-use plastics growing worldwide, a research team from the University of Georgia New Materials Institute in collaboration with the RWDC Environmental Stewardship Foundation are attempting to create at least one alternative to a plastic product: a biodegradable plastic straw.
Thanks to an award from Singapore's Temasek Foundation Ecosperity, the team will attempt to create a prototype of a commercially viable straw using a food-contact polymer.
Once developed, the straws will undergo testing to determine if they can be consistently manufactured, producible to meet global demand and fully biodegradable in sea water, fresh water and soil.
Few non-plastic alternatives currently exist for straws. One such alternative, a plastic called polyactic acid (PLA), is only compostable in specific environments.
"Plastics made from PLA only degrade in industrial compostable settings under high temperature and humidity conditions," said Jason Locklin, director of the New Materials Institute and a professor in the Franklin College of Arts and Sciences department of chemistry and the college of engineering, who worked on the project.
"Other types of plastic, which are petroleum-based, last forever. Less than 10 percent of these plastics are recycled. The 90 percent that aren't recycled will ultimately fragment over time, and as micronized plastic, can end up in our soil, rivers and oceans — forever."
The biodegradable straw in development with the team is based on a proprietary, bio-based resin in the class of polymers called polyhydroxyalkanoates, or PHAs. To become a commercially viable product, the straw will need to perform on par with those currently available. Likewise, the straw must be cost-effective at every stage, from production to disposal.
"The PHA-straw is an initial step toward our shared goal, with RWDC, of replacing single-use, petroleum-based plastics with plastics made from our biodegradable resins," said Branson Ritchie, director of technology development and implementation for the New Materials Institute, and a distinguished research professor at UGA.
"We can tweak our formulas and expand our technology on a product-by-product basis. This keeps a manufacturer's costs down because they don't have to reinvent their processes, and this facilitates their ability to quickly produce environmentally-friendly plastic products."