Seeking to strengthen paper straws
Marie Donlon | February 08, 2023
Researchers from South Korea's Sogang University have developed a 100% biodegradable paper straw that doesn't get soggy when introduced to liquids.
Unlike the current spate of biodegradable paper straw offerings that either get too soggy when in contact with liquids or that fail to decompose quickly, the Sogang University paper straw is reportedly able to maintain its physical integrity.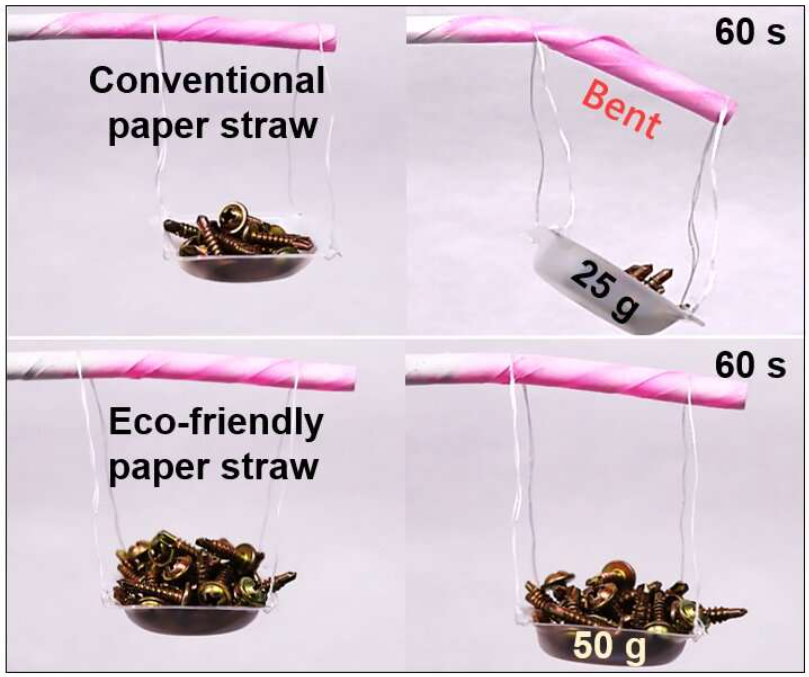 When used to stir a beverage in a cup, a paper straw is frequently bent slightly or delaminated. Due to its high mechanical rigidity in water, eco-friendly paper straw was observed to withstand a relatively heavy weight for 60 seconds under wet condition. Source: Korea Research Institute of Chemical Technology (KRICT)
To create a straw that maintains its physical integrity in both hot and cold drinks and after prolonged contact with liquids, the team developed a coating for its biodegradable straws.
The researchers reportedly synthesized a biodegradable plastic called polybutylene succinate (PBS) with a small concentration of cellulose nanocrystals to create the coating. Because the cellulose nanocrystals are composed of the same material as the primary component of paper, the biodegradable plastic was able to quickly bond to the paper surface during the coating process.
The team suggests that this coating is what helps their straw overcome the issues currently experienced by the array of current paper straws that do not feature a coating material that adheres strongly to the surface and repels liquids, thus allowing the straws to become soggy when introduced to liquids.
Further, when tested in a marine environment, the team discovered that the coated straws decompose well in bodies of water — even in the ocean.
The straw and its coating are detailed in the article Biodegradable, Water‐Resistant, Anti‐Fizzing, Polyester Nanocellulose Composite Paper Straws, which appears in the journal Advanced Science.