Data Show Puerto Rico's Ongoing Recovery from Its Long Blackout
Engineering360 News Desk | August 06, 2018
After what is being characterized as the longest electricity blackout in U.S. history, the Energy Department's Energy Information Administration (EIA) says that total electricity sales in Puerto Rico returned to pre-Hurricane Maria levels in April and May 2018.
EIA says, however, that residential electricity sales continue to lag historical levels, reflecting what it says are continued outages.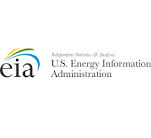 Hurricane Maria, a Category 4 hurricane, made landfall in Puerto Rico on Sept. 20, 2017, two weeks after Hurricane Irma passed north of the island. The Puerto Rico Electric Power Authority (PREPA) utility reported that all 1,570,000 of its electricity customers were without power immediately after Hurricane Maria. The storm destroyed much of the territory's vulnerable and outdated transmission and distribution infrastructure. As a result, outages continued even as power plants resumed operation.
(Read "Logistics, Inadequate Staffing Slowed FEMA's Hurricane Response Effort.")
Electricity sales in 2016 in Puerto Rico totaled 17.3 million megawatthours (MWh). Total sales fell to 13.8 million MWh in 2017, largely as a result of hurricane-caused outages. Following the hurricanes in September 2017, total sales fell below 0.3 million MWh in October.
I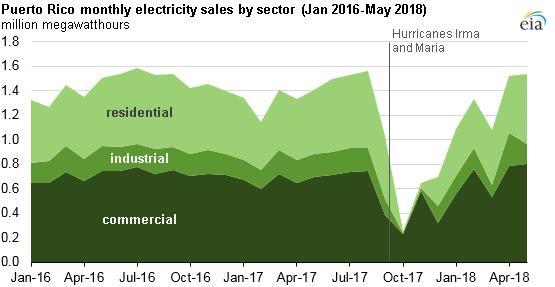 Credit: EIAn particular, residential and industrial electricity sales in October 2017 fell to 3 percent and 6 percent of their average levels in the previous October.
Commercial electricity sales were 33 percent of their previous year levels. EIA says that was largely because emergency responders prioritized electricity sales to hospitals and public assembly areas.
As of May 2018, Puerto Rico had 1.5 million electricity customers, of which 1.3 million were residential customers. As of April 2018, 95 percent of Puerto Rico's electricity customers had restored power, and about 62,000 customers remained without power.
EIA says that Puerto Rico residential electricity customers paid 20 cents per kilowatthour (kWh) in 2017, nearly twice as much as the average U.S. residential customer rate of 13 cents per kWh. If Puerto Rico were a U.S. state, it would have the fourth-highest residential electricity price, behind Hawaii, Alaska and Connecticut.
In 2016, 47 percent of Puerto Rico's electricity generation came from petroleum, 34 percent from natural gas, 17 percent from coal and 2 percent from renewable sources, EIA says.