PREPA Set to Cancel Whitefish Power Grid Contract
David Wagman | October 30, 2017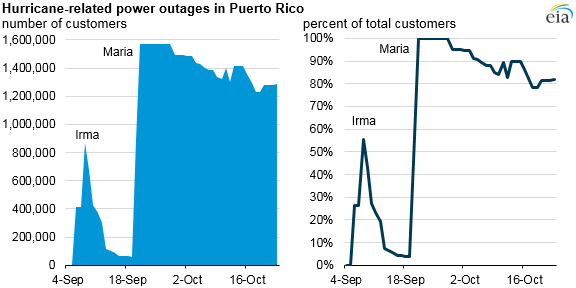 Puerto Rico's electric grid has been slow to recover after Hurricane Maria. Source: Energy Information Administration
Puerto Rico's government power company said October 29 that it will cancel a $300 million contract with Montana-based Whitefish Energy, which received the no-bid contract to rebuild the island's electric power grid after Hurricane Maria.
The contract between Whitefish Energy Holdings and the Puerto Rico Electric Power Authority (PREPA) was criticized by local officials and U.S. federal authorities.
As of late October, around one-quarter of homes and businesses have power. PREPA has set a goal of having 95 percent of power back by the middle of December. (Read "Puerto Rico's Power Is Slow to Return After Maria.")
In a statement, Whitefish Energy said "we are very disappointed in the decision by Governor (Ricardo) Rosselló to ask PREPA to cancel the contract which led to PREPA's announcement." The company said it would finish any work that PREPA asks it to complete.
During its time on the island, Whitefish said it had brought in 350 workers and more than 600 pieces of equipment, including 400 trucks, cranes and excavators, as well as five helicopters. (Read "PREPA Taps Whitefish Energy for Puerto Rico Grid Rebuild.")
News reports say that the territory has reached out to officials in Florida and New York, which have already sent people to Puerto Rico, to send more crews in the event that Whitefish departs.
On September 6, two weeks before Hurricane Maria made landfall on Puerto Rico, Hurricane Irma passed north of the island. In the days following Hurricane Irma, nearly 900,000 customers were without power, based on data compiled in the Department of Energy's Situation Reports. By September 19, PREPA had restored power to 96 percent, or all but about 63,000, of Puerto Rico's electricity customers.

Officials inspect damage immediately after Hurricane Maria. Source: NYPAContract terms mean that the cancellation becomes effective 30 days from notice, which had not yet been sent. PREPA's chief said he was writing a letter to the board of directors of PREPA asking for a resolution allowing him to cancel the contract.
Speaking to CNN, New York Gov. Andrew Cuomo said he could send hundreds of work crews to Puerto Rico to assist with the repair work. Florida Gov. Rick Scott's office said he and Rosselló "have talked frequently regarding Hurricane Maria recovery."
PREPA declared bankruptcy in July. It has a $9 billion debt load caused by years of unsuccessful rate collection efforts, particularly from municipal governments and state agencies, and a lack of investment in equipment and maintenance.