Watch How Magnetic Nanoparticles Benefit Spinal Surgery
S. Himmelstein | July 28, 2018
Spinal fractures associated with tumors or osteoporosis are typically addressed with a procedure called kyphoplasty, where the fracture is filled with surgical cement. The process stabilizes the bone, but cancer patients are often left with spinal column tumors that are hard to treat with conventional chemotherapy, which has to cross the blood-brain barrier when delivered intravenously.
A more targeted delivery of corrective solutions is being advanced by researchers at the University of Illinois at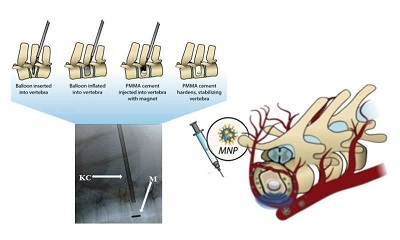 Magnetic particles are embedded into surgical cement to help guide magnetic nanoparticles to the spinal column. Source: University of Illinois at ChicagoChicago. Magnetic particles added to surgical cement used to heal spinal fractures can be guided directly to lesions near the fractures. Nanoparticles bound to various drugs have been used to target drugs to specific locations or types of cells in the body by binding a minute amount of drug to the nanoparticle, which is designed to also bind to a specific type of cell, such as a cancer cell.
The researchers tested the magnetically-guided drug delivery system with a pig model and successfully steered magnetic nanoparticles to the magnetic cement in the animal's spinal vertebrae. In future assessments to test the efficacy of this technique for treating spinal column tumors, the magnetic nanoparticles would be bound to tiny amounts of chemotherapy drugs.
The study, published in PLOS ONE, provides an in-vivo proof-of-concept that this drug delivery system can help treat underlying causes of spinal fractures in addition to providing structural support.