Welcome to this week's edition of the Engineering360 news brief.
Solar Sailing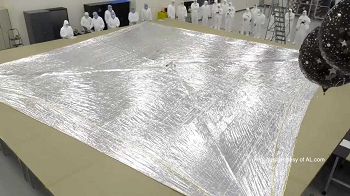 Source: AL.com
Solar Sailing is the concept of a spacecraft that could be outfitted with sails and propelled by the sun. Now, a Rochester Institute of Technology researcher is promoting the concept through the use of advanced photonic materials. Grover Swartzlander, a professor of imaging science at the institute, has proposed replacing reflective metallic sails with diffractive metafilm sails in order to correct known limitations such as overheating and excessive spacecraft tilt. The sails could be used to efficiently steer reflected or transmitted photons for space travel. The sails represent a new application of metamaterials, which are engineered to have properties not found in nature. The metafilms envisaged for the sails could also be used to replace heavy and failure-prone mechanical systems with lighter controls having no moving parts.
Industrial Drone Software
Industrial drone software vendor Drone Deploy recently raised $25 million in funding led by energy and industrial venture capital firm Invenergy and AirTree, one of the largest venture capital firms in Australia. The company is developing software technology to automate drones in order to better accomplish industrial missions such as surveying and inspection for the energy, construction and agriculture industries. The software also uses machine vision to create 3D maps of the areas where drones have taken hundreds of photos of the areas inspected or surveyed. These models allow companies to determine actionable insights into crops being affected by weather or soil damage or if a wind turbine needs repair.
SpaceX Hyperloop Pod
Delft Hyperloop, the student team from Delft University of Technology in The Netherlands, has unveiled its new hyperloop pod that will participate in the third SpaceX Hyperloop Pod Competition taking place on July 22. The third SpaceX competition will see 20 qualified teams from around the world competing with the goal of being the fastest pod on the test track. The Delft Hyperloop vehicle is propelled by lithium-ion batteries protected by an airtight battery pack and a wheel clamped onto the hyperloop track to generate the maximum possible grip for more efficiency at high speeds over short distances.
The complete story can be found on the Engineering360 website. While there, check out Electronics360 for more news and information like this — plus engineering reference guides, product spec sheets and videos of interest.