Video: Hyperloop Aims to Create Innovative High-speed Travel Using Magnets
Siobhan Treacy | May 31, 2017
High-speed mass transit is the next step in technology that researchers and scientists around the world are currently focused on with Elon Musk leading the race to the next big breakthrough. Musk, the founder and co-founder of many innovative companies like Tesla and SolarCity, is leading the science community on a high-speed chase for high-speed transit.
Musk has started the Hyperloop Project, partnering with one of his companies, SpaceX. SpaceX was originally created to work in the aerospace manufacture and transport industry. Their goal was to research ways for humanity to relocate to other planets in the solar system, but Musk has recently switched SpaceX's focus to the new trend in high-speed mass transit. Musk harnessed the knowledge of the engineers working for SpaceX and focused on mass transit. He knew that their knowledge would revolutionize the mass transit industry.
Hyperloop has developed a concept for a pod that can carry a few people at a time, and travel at very high speed in a tube, like a personal subway car. This could be an alternative to flying, driving and train travel, all while being safe and convenient for the average user. This could be a more eco-friendly way of travel. The goal is for this travel to be completely free of fossil fuel use.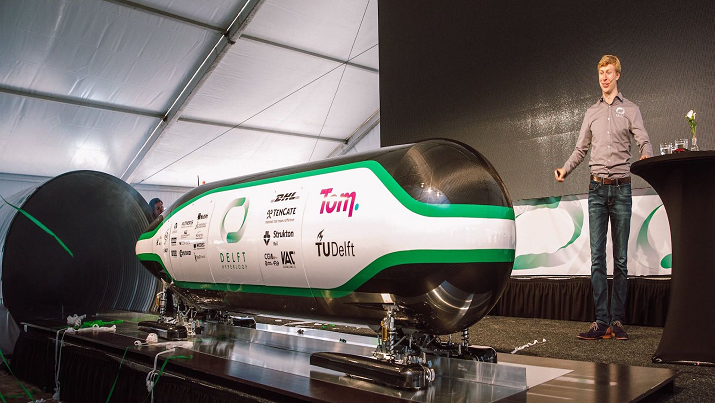 Pod created by TU Delft (TU Delft)
Hyperloop is being set up around the world. In 2015 Musk started a competition for international students to come up with ideas for pod operation. Two universities – Massachusetts Institute of Technology (MIT) and Delft University of Technology – took part in the first phases of this competition in January 2017. The universities revealed their prototype pods that can safely travel up to 250 miles per hour and reduce speed to a standstill without crashing. Magnetic levitation was the key to these prototypes.
Max Opgenoord is a Ph.D. student at MIT and he has led the MIT Hyperloop team. "It has been an exciting ride," he says. "When we started with the competition, no one knew what a Hyperloop pod should look like, so we had incredible design freedom. And now, almost two years later, we have demonstrated that a Hyperloop pod can be built. The levitation was definitely the most challenging part of the project because there were so many options."
The rules of this competition state that all participants must be from different majors and areas of study. Musk thought that in order to have innovative and creative new ideas, a variety of different mindsets were required. At the end of the competition, TU Delft won the overall prize, while MIT won for safety and reliability.
At this year's Coil Winding, Insulation and Electrical Manufacturing Exhibition Portfolio (CWIEME) in Berlin, Musk and researchers from SpaceX will lead a workshop to talk and spread information about the Hyperloop competition, the research that has already been completed and the future of high-speed mass transportation. They are looking forward to hearing what other experts in their fields have to say about this project and about any other research that may have been done. Their session will be on Tuesday, June 20th, 2017 from 11:45-12:35 Berlin time. The session is titled "Next generation/future transportation."