Ghafari Wins Design and Engineering Contract for Auto Plant
David Wagman | July 24, 2018
Ghafari Associates says it won a contract for comprehensive architecture and engineering services for a new automotive plant for Mazda Toyota Manufacturing U.S.A. Inc. in Huntsville, Alabama. This joint venture represents a $1.6 billion investment by the two automakers.
The nearly six million-square-feet complex will be developed on a greenfield site and will be among the largest of its kind in terms of size and operational capacity. The campus will include a press shop, welding shop, paint shop, general assembly facility, test track, ancillary support building and an administration building with offices, locker rooms and cafeteria.

The new plant will have the capacity to build 300,000 vehicles annually, with production split between each company. When complete, the plant will produce a new Mazda crossover model and the Toyota Corolla. Construction is slated to begin in the fourth quarter of 2018. Vehicle production is expected to start in 2021.
In announcing the plant in January, news reports said that state officials offered an incentive package of more than $370 million for the plant. The state's offer included:
$210 million investment credit: Toyota and Mazda will be able to claim a tax credit of up to 1.5 percent of the qualified capital investment expenses over the next 10 years.
$90.6 million payroll credit: The companies will get an annual cash rebate of up to 3 percent of the previous year's gross payroll for eligible employees for up to 10 years.
$20 million capital reimbursement: The companies will get a reimbursement for eligible capital costs.
$39.3 million sales and property tax abatement: The companies will get a reduction in sales and property taxes. That includes a $14.3 million property tax abatement over 20 years.
$20 million training center: The state has committed up to $20 million for the construction and operation of a training center.
Alabama also offered road and bridge improvements around the new plant, worth around $20 million.
For Toyota, this joint-venture plant will be its 11th U.S. manufacturing facility and is in addition to the $10 billion dollar investment over the next five years that was announced in January 2017.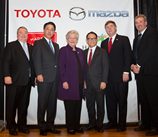 Auto and state officials announced the new plant in January 2018. Alabama is the fifth-largest producer of cars and light trucks nationally and includes Toyota's engine plant in Huntsville. With more than 150 automotive suppliers in the state as well as automakers, there are approximately 57,000 automotive manufacturing jobs in Alabama.
Ghafari is an engineering, architecture, process design, consulting and construction firm with 15 offices around the globe. It supports sectors such as aviation, corporate and commercial, education, government and institutional, healthcare and industrial and manufacturing.
Yousif B. Ghafari immigrated to the U.S. in the early 1970s to pursue an undergraduate degree and started Ghafari Associates in 1982. As a young engineer working primarily with clients in the manufacturing sector, he recognized the potential of computer-aided design (CAD) technology. He established Ghafari in Michigan as a CAD services provider.
The firm has since expanded from a Detroit-area CAD shop to an international, full-service engineering, architecture, process design, consulting and construction firm serving clients across a variety of industries.