Alabama Lures Auto Plant with $370m in Incentives
David Wagman | January 11, 2018
Mazda and Toyota will build a $1.6 billion auto plant in Huntsville, Alabama. Production is expected to begin by 2021 and the plant will have the capacity to build 300,000 vehicles annually.
Production is to be split evenly between two lines for each company to produce a Mazda crossover model new to the North American market and the Toyota Corolla.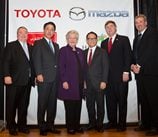 Alabama officials join executives from Toyota and Mazda to announce the new plant. Credit: ToyotaThe site is 14 miles from Toyota's existing Alabama plant.
The Associated Press says that state officials offered an incentive package of more than $370 million. The state's offer included:
$210 million investment credit: Toyota and Mazda will be able to claim a tax credit of up to 1.5 percent of the qualified capital investment expenses over the next 10 years.
$90.6 million payroll credit: The companies will get an annual cash rebate of up to 3 percent of the previous year's gross payroll for eligible employees for up to 10 years.
$20 million capital reimbursement: The companies will get a reimbursement for eligible capital costs.
$39.3 million sales and property tax abatement: The companies will get a reduction in sales and property taxes. That includes a $14.3 million property tax abatement over 20 years.
$20 million training center: The state has committed up to $20 million for the construction and operation of a training center.
Alabama also offered road and bridge improvements around the new plant, worth around $20 million.
For Toyota, this joint-venture plant will be its 11th U.S. manufacturing facility and is in addition to the $10 billion dollar investment over the next 5 years that was announced in January 2017.
Alabama is the fifth largest producer of cars and light trucks nationally and includes Toyota's engine plant in Huntsville. With more than 150 tier 1 and 2 automotive suppliers in the state as well as automakers, there are approximately 57,000 automotive manufacturing jobs in Alabama.
In the coming months, after obtaining approvals and authorization by antitrust agencies, the new joint venture will be established and site preparations will begin, with the start of vehicle production expected in 2021.