Flight Tests Completed for Shape-changing Aircraft Wings, NASA Says
Engineering360 News Desk | April 30, 2015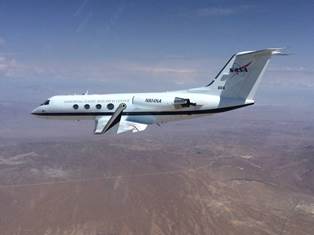 NASA successfully completed flight tests of a morphing wing technology. Flap angles were adjusted from -2 degrees up to 30 degrees during the six months of testing. Image Credit: NASAThe U.S. space agency NASA says that after six months and 22 research flights, it has completed its initial flight tests of a new morphing wing technology.
The shape-changing wings are designed to reduce aircraft weight as well as the noise it generates during flight. NASA says the flaps also could save the aviation industry millions of dollars annually in fuel savings.
During the test, the wing's curve remained set anywhere from -2 to 30 degrees, but it can also be adjusted as needed.
"The completion of this flight test campaign is a huge step for NASA's Environmentally Responsible Aviation (ERA) project," says project manager Fay Collier. "This is the first of eight large-scale integrated technology demonstrations ERA is finishing up this year that are designed to reduce the impact of aviation on the environment."
The technology is able to be retrofitted to existing airplanes or built into new airframes. It will be able to reduce wing structural weight and to aerodynamically tailor the wings to promote improved fuel economy and more efficient operations.
The final products of these flight tests will be included in design trade studies performed at NASA's Langley Research Centre in Hampton, Virginia, for designing future transport aircraft.