NASA, Boeing Test Aircraft Wing Coatings to Improve Fuel Efficiency
Engineering360 News Desk | June 03, 2015
The U.S. space agency NASA has tested non-stick coatings on aircraft wings to reduce insect residue, which creates additional drag and reduces aircraft fuel efficiency.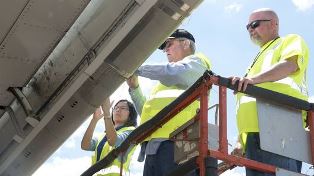 NASA and Boeing researchers counting insect residue on the right wing of Boeings ecoDemonstrator 757 aircraft. (Image credit: NASA/Paul Bagby) Working with Boeing, NASA has spent roughly two weeks testing five coatings aimed at preventing insect remains from sticking to the leading edge of an aircraft wing. Researchers from the Environmentally Responsible Aviation (ERA) Project made 15 flights from the Shreveport Regional Airport in Louisiana, an airport that has a large insect infestation.
"One of the five coating/surface combinations showed especially promising results," says Fay Collier, ERA project manager. "There still is a lot of research to be done, but early data indicated one coating had about a 40% reduction in bug counts and residue compared to a control surface mounted next to it."
Laminar aircraft wings are designed to be aerodynamically efficient, says Mia Siochi, senior materials scientist at NASA's Langley Research Center in Virginia. Bug residue causes the airflow to change from smooth or laminar to turbulent, causing additional drag.
Researchers used lotus leaves as a model to create the right combination of chemicals and surface roughness for the test coatings. Water does not stick to a lotus leaf because it has rough, pointed features. When liquid sits on the leaf, surface tension keeps the liquid from spreading so it rolls off.
More than 200 coating formulations were developed and tested in a small wind tunnel, several of which were tested on the wing of a NASA jet.