For baby boomers and Gen Xers, the term "public transit" conjures images of slow, urban buses belching clouds of black smoke onto the unfortunate vehicles creeping behind. Or subway trains so crammed with rush-hour humanity that a nicely pressed suit ends up looking like it was slept in. Television and movies brought these images of major urban centers like New York and Chicago to millions of residents of smaller cities and towns, who were relieved to be able to hop in a car to get where they wanted to go.
These scenarios no longer define the art and science of moving people where they need to go. A more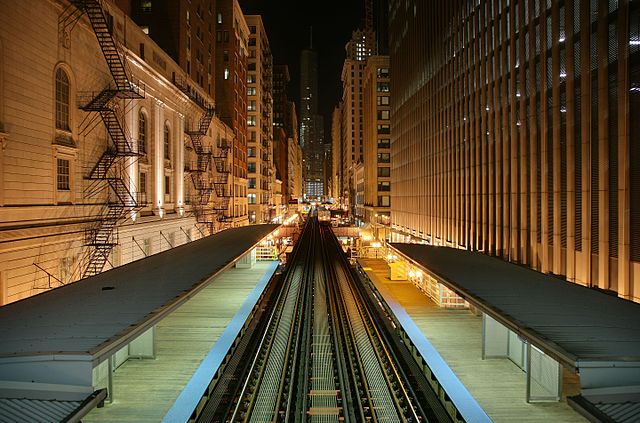 Looking north from Chicago 'L' station Adams and Wabash in Chicago Loop. Source: Daniel Schwen/CC BY-SA 4.0 diverse mix of transportation modes – vehicle-sharing with Uber and Lyft, multiple bicycle-sharing options, walking – and better technology for stitching the options together reduces dependence on single-owner automobiles.
The impact of pollution from internal-combustion engines helps fuel alternative vehicle use and reduced reliance on those belching behemoths. Demographic changes, particularly the rise of the millennial generation, are also driving changes. Millennials constitute a larger portion of the workforce than their generational predecessors; they are more frequent users of public transit and a larger proportion of this group prefer it to automobile ownership.
What does the 83-million-person strong millennial generation want from public transit?
"[Millennials] definitely want to live in communities that are walkable and have transit nearby," said Darnell Grisby, director of policy and research at the American Public Transportation Association (APTA). "[According to APTA data] it's about 10 points higher than you'll find with baby boomers – 41 percent to 33 percent."
They want multimodal choices so they can optimize their journeys, whether they are headed to work or a baseball game. Using public transit allows the rider to put travel time to use reading the newspaper, catching up on work or catching some z's. Optimization covers not just the time but money. Technology is replacing activities that in the past required driving to a physical place, like the office or the shopping mall. Automobile ownership is expensive, and millennials are weighing the costs and benefits of ownership against paying for physical transport only when needed. And millennials care about the environmental damage done by fossil-fuel-burning transportation, so public transit, ride-sharing and cleaner vehicles all appeal to them.
Cities that provide environments amenable to millennial lifestyle preferences stand to benefit when members of this group choose where to live. Some urban areas that are already well-known for forward-thinking public transit are millennial meccas. San Francisco and Washington, D.C. are frequently rated as the top three public-transit urban areas, along with New York City, although its transit system is not well-known as an innovator. Transit systems across the country have started offering Wi-Fi, bike racks on buses and smartphone apps that offer various levels of functionality. Transit systems are implementing services that fit with millennials' ethos – whether this was the original intent is irrelevant. Following are some innovative and responsive transit updates already in place around the U.S.
Tools for Maximizing Travel Efficiency
Smartphone technology has a major impact on most areas of modern life. Transit and travel are no exception. Trip planning applications, like MuniMobile from the San Francisco Municipal Transit Agency (SFMTA), allow users to plan trips on one or several modes of transportation. TriMet, the public transit system that serves greater Portland, Oregon, also offers trip planning via a smartphone app. Riders can view expected arrival times and service alerts. An additional service is the web page with a list of third-party apps, searchable by platform, that uses TriMet's data. Some apps, like HERE WeGo, combine multiple transportation methods – including walking – to provide routes. A couple of these apps work with technology designed for visually impaired riders. Apps that combine public transit information with other mobility services, like Uber, Lyft and bike share locations, enable the user to plan a seamless journey, including the "last mile" – or last few yards – between starting point and destination.
Virtual tickets and multi-ride passes are increasingly popular. These are easy to buy using the phone and eliminate the problem of keeping a paper pass. Third-party software developers INIT and moovel, among others, work with transit authorities to customize ticketing, route planning and payment services.
Speaking of Bikes
Transportation modes that do not throw clouds of smog and partially combusted fossil fuel appeal to millennials; bikes fit this bill quite well. Bike-sharing started in earnest about 20 years ago in Copenhagen. These services have evolved from coin-operated docking stations to automated stations to dockless. Some services include electric bikes in addition to conventional, totally human-powered cycles. China has the most public-use bicycle systems by far, but the U.S. comes in third, behind Italy, with 147. The latest twist on sharing two-wheeled conveyances is the advent of electric scooter sharing. Both Lime, a bike and scooter sharing service, and Bird, which focuses on scooters, have received large doses of venture capital, as have Spin and Skip. Both bikes and scooters can take commuters from a bus, train or subway station to the office or around town. Assorted apps map out docking locations or available undocked two-wheelers.
Philadelphia launched Indego, its widely available bike share network, in 2015, using public funds to jumpstart the program. Now in its fourth year, Indego has expanded to over 60 docking stations; at least a third are in lower-income neighborhoods. Pennsylvania citizens who have an Access card can buy a monthly Indego pass for only $5, making this service accessible to lower-income city residents.
The jury is still out on undocked rentals. San Francisco's city officials are debating whether or how to regulate them. One concern is whether these undocked two-wheelers will become litter if their renters can leave them wherever they decide to. And sidewalks and city streets are not designed to accommodate them.
Big Data
The 21st century – at least so far – runs on data analysis. Transit services collect and analyze data, and then use it to improve service. Boston's MBTA rolled out its Dashboard in 2016, offering numbers on system reliability, ridership, financials and customer satisfaction. For riders who are data geeks, the MBTA offers a data blog complete with data challenges: use the system's data to answer questions.
"The Dashboard demonstrated our commitment to customer satisfaction and making decisions based upon the data," said MassDOT secretary and CEO Stephanie Pollack. Some riders are skeptical that service has improved since system data made its public debut.
Houston crunched the numbers a few years ago and used the results to guide a complete redesign of its bus network. The redesign enabled "everywhere to everywhere" travel with frequent service on a redesigned transit grid. System designers made an important choice – to keep Sunday service almost as frequent as weekday service. This decision had two main drivers: for many service workers, Sunday is no different from a weekday, and Houston offers a lot of recreational and cultural opportunities on weekends. A brand-new, free, augmented reality smartphone app allows users to aim the phone camera in any direction and see labels describing elements of the view on the camera.
Get to Know Your City
Riding a bike is a particularly pleasant way to explore an area. Integrating bike lanes aimed at bike commuters with neighborhood and nature trails offers millennials – and other residents – easy access to recreation without needing a car. The Portland Bureau of Transportation has mapped multiple recreational bike and bike-walk routes, ranging from tours of city neighborhoods to trips out to the Pacific coast.
Pittsburgh acknowledges that the city can be a daunting place to ride a bike for those who are new to cycling or to Pittsburgh; BikePGH offers a slick online map and lots of information about cycling in the area. The courageous cyclist can even travel from the Golden Triangle, figuratively speaking, to Washington D.C. along the Great Allegheny Passage.
Future Improvements
Cities large and small are recognizing that investment in efficient multi-modal public transit affects economies and quality of life for most residents. Good transit is one of the central requirements on Amazon's list for its new second headquarters location; transit attracts other employers as well. Transit authorities and local governments are finding smart ways to work together to solve real-world problems.
Last year the Portland government broke ground on three affordable-housing projects that are convenient to public transit.
Multiple cities are investing in electric buses and making electric vehicle charging stations available near transit facilities.
New Orleans instituted an online ride-share service (GeauxRide – pronounced "go ride") for those who lack have convenient public transportation.
Although the national average ridership for public transit is nine percent, cities in the Western U.S. and in Texas that are improving their systems are winning ridership increases of 20 percent a year…so it's a good time to hop on the bus, the train or a bike.