Inexpensive and stable, silicon has been the material of choice for solar cell design, accounting for 90 percent of the market. While silicon is approaching its theoretical efficiency limit, researchers at Switzerland's Ecole Polytechnique Fédérale de Lausanne (EPFL) and CSEM have paired the material with perovskite to improve power conversion efficiencies.
The tandem cell design, with a perovskite cell placed on top of a standard silicon device, has posted a record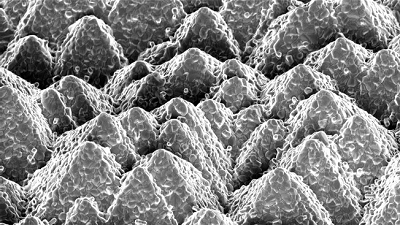 Silicon's pyramids covered with perovskite. Source: EPFL25.2 percent efficiency. Perovskite allows high conversion efficiency to be achieved at a potentially limited production cost, and complements silicon, which is superior at converting red and infrared light, by converting blue and green light more efficiently.
Challenges have plagued the development of such tandem systems, as pyramidal structures on silicon's surface make it difficult to deposit a homogeneous film of perovskite. The researchers eliminated this limitation with evaporation methods to form an inorganic base layer that fully covers the pyramids. The porous layer retains the liquid organic solution that is then added using a thin-film deposition technique called spin-coating. Heating the substrate to a relatively low temperature of 150 degrees Celsius crystallizes a homogeneous film of perovskite on top of the silicon pyramids.
The researchers said that the process is relatively simple, and could be incorporated into existing production lines with only a few extra steps. They also suggested that the technology could lead to the realization of monolithic perovskite/silicon tandem devices of 30 percent efficiency.