A new method for measuring free energy in live organisms and systems comes from the National Institute of Standards and Technology (NIST) and University of Maryland (UM) in College Park. This method gives new insights into just how free energy is created and used.
Free energy is the energy that drives cells to live and machines to move. This energy can be extracted from any system, from living organism to a machine, and performs work. Without free energy, cells would die and machines would stop moving.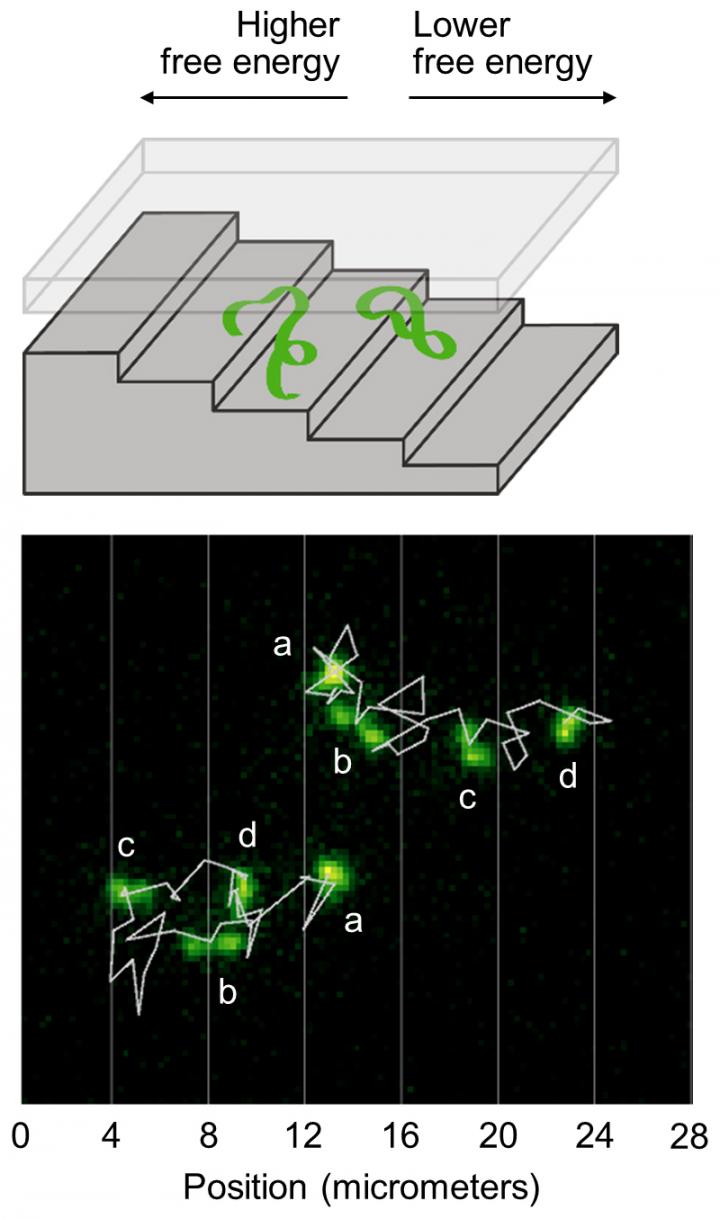 Relaxation Fluctuation Spectroscopy is a new method of analyzing such fluctuating trajectories to measure the free energy of microscopic systems. (Source: NIST)
While we know that free energy is what keeps things moving, there is not a lot known about how it is created. Scientists can use free energy to predict how a living organism will behave and how a system will operate but learning more about it is crucial. To study free energy, researchers have been focusing on DNA molecules.
"Scientists have relied on free energy to understand complex systems since the development of steam engines. This concept will continue to be just as fundamental as we engineer and design proteins and other single-molecule systems," noted NIST's David Ross, "But the measurements are much harder for those small systems--so approaches like the new one we describe will be of fundamental importance."
One method for measuring free energy that has already been developed uses a microscopic force sensor to pull a DNA molecule. The force sensor measures changes in force or position as a DNA molecule relaxes and releases free energy. This method has led to some insights into free energy, but it is not perfect. The force sensor attachment can disturb the microscopic system. It also can't measure the changes in free energy without having to change position completely, potentially losing some of the free energy.
The newest method is called Relaxation Fluctuation Spectroscopy (ReFluS). ReFluS measures fluctuations during the relaxation period to determine the free energy. ReFluS uses microscopy to track and analyze the fluctuation of free energy in single molecules. The team believes that this method can be applied to many potential microscopic and nanoscopic systems to measure their free energy.
ReFluS manages to measure free energy without the unsuccessful force sensor attachment used in the previous method. ReFluS uses optical microscopy to track the motion or configuration of the system being studied. This allows researchers to see the inner workings of these microscopic systems, from tiny machinery to living systems like viruses or cells. ReFluS can be used to further understand and study processes like chemical reactions, the movement of molecules and more.
Researchers focused on using ReFluS to study tiny molecules that have a highly excited state that is far from equal to their surroundings. These systems lower their state to their surroundings which results in free energy variations. Microscopic systems typically alter their properties while they are relaxing. This is due to the random motion of the surrounding molecules that are jostling the system.
"Our approach shows that useful information can be gleaned from observing the random motions of a system as it settles down from a highly excited, far-from-equilibrium state," said co-author Christopher Jarzynski of the University of Maryland.
The researchers studied DNA molecules on a nanometer scale, staircase-shaped space using ReFluS. At the top of the staircase, the DNA molecules are compressed more tightly than the molecules at the bottom resulting in free energy. The team applied an electric field to the DNA molecules, which drove the molecules to the top of the staircase. When the field was turned off, the researchers used ReFluS and an optical microscope to watch how the molecules move. The team watched the DNA molecules fall down the staircase as they relaxed to equilibrium and free energy is decreased. Due to microscopic fluctuations in the movements, the DNA molecules would sometimes move back up the staircase, which created more free energy. The fluctuations were studied and the researchers were able to create a free energy profile for DNA molecules.
The paper on the new method for measuring and studying DNA was published in Nature Physics.