New method speeds drug testing and discovery
S. Himmelstein | April 28, 2022
Screening vast libraries of thousands of compounds in pursuit of new pharmaceutical compounds is a time- and resource-intensive endeavor. By combining elements of machine learning, nanotechnology and synthetic biochemistry, researchers in Denmark have devised a new drug discovery process claimed to speed this task by a factor of one million.
The single particle combinatorial lipidic nanocontainer fusion based on DNA mediated fusion (SPARCLD) method analyzes interactions of drug candidates with target molecules extremely rapidly, inexpensively and with very small amounts of starting materials and reagents. The technique involves using liposomes to hold and combine molecules in a system that can evaluate up to 40,000 molecules in an area comparable to the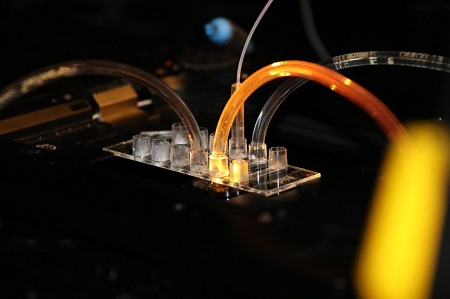 The method uses nano-containers to accelerate the testing of pharmaceutical ingredients. Source: Nikos Hatzakis/University of Copenhagen head of a pin.
The SPARCLD method is characterized as a parallelized, multi-step and non-deterministic fusion of individual zepto-liter nano-containers. The research team has observed efficient (more than 93%) leakage-free fusion sequences for arrays of surface tethered target liposomes with six freely diffusing populations of cargo liposomes, each functionalized with individual lapidated DNA and fluorescent barcoded by a distinct ratio of chromophores. Real-time total internal reflection microscopy allowed direct observation of more than 16,000 fusions and accurate classification of 566 distinct fusion sequences using machine learning in a method that allows for approximately 42,000 nano-containers per square millimeter.
"The volumes are so small that the use of material can be compared to using one liter of water and one kilogram of material instead of the entire volumes of water in all oceans to test material corresponding to the entire mass of Mount Everest. This is an unprecedented save in effort, material, manpower and energy," explained the researchers.
The SPARCLD technology, developed by scientists from the University of Copenhagen and the University of Southern Denmark, returns results in just seven minutes.