Floating Russian Nuke Arrives for Fueling
David Wagman | May 21, 2018
The floating nuclear power plant Akademik Lomonosov arrived in Murmansk where it was towed from Saint Petersburg to be loaded with fuel.
Once loaded with fuel, the unit will be towed to the town of Pevek in Chukotka where it will become one of the world's first operational floating nuclear power plants, and the northernmost nuclear installation in the world.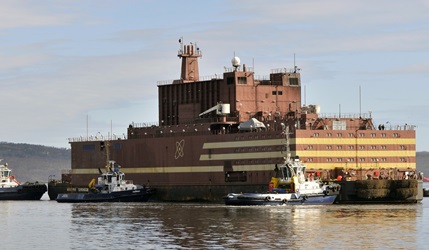 (Click to enlarge.) The power plant as it arrived in Murmansk for fueling. Credit: Rosatom.It will replace a coal-fired power plant and an aging nuclear power plant Bilibino.
En route to Murmansk, Lomonosov sailed over 4,000 km and traveled four seas -- the Baltic, Northern, Norwegian and Barents. (Read "This Floating Nuclear Power Plant Has Set Sail.")
In 2019 the Akademik Lomonosov is expected be towed to the sea port of Pevek. Average towing speed is estimated at 3.5-4.5 knots. Construction work to create on-shore infrastructure is underway.
The nuclear FPU is equipped with two KLT-40C reactor systems (each with a capacity of 35 MW) similar to those used on icebreakers. The vessel is 144 meters long and 30 meters wide, and has a displacement of 21,000 tons.
The lifecycle of the nuclear plant is 40 years with the possibility of being extended to up to 50 years. After decommissioning, the FPU will be towed to a special deconstruction and recycling facility. No spent nuclear fuel or radioactive waste is planned to be left in the Arctic.
The FNPP was designed to made it possible to supply electricity to hard-to-reach areas of the Russian Federation, regardless of transport infrastructure, landscape, and cost of fuel delivery. Up to 40 percent of the cost of fossil fuel-based electricity generation is attributed to the price of coal, oil or gas, as well as to the cost of their delivery.
Rosatom, which built Akademik Lomonosov, is working on second-generation floating power units, or Optimized Floating Power Units (OFPUs), which will be equipped with two RITM-200M reactors (each with a capacity of 50 MW). The OFPUs are designed to be smaller than their predecessors.