First Nuclear Reactor on Russia's Floating Plant Starts Up
S. Himmelstein | November 08, 2018
One of the two reactors aboard Russia's first floating nuclear power plant, Akademik Lomonosov, has achieved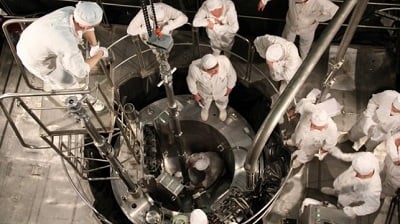 Technicians loading the first reactor aboard the Akademik Lomonosov, Russia's floating nuclear power plant. Source: Rosenergoatoma sustained chain reaction for the first time. The second reactor will be started up and tests will be carried out before the plant is towed to Pevek next year.
The loading of fuel into the two 35 MWe KLT-40S reactors aboard the floating plant began on July 24 and completed on October 2. Operator Rosatom said that once in operation the facility will be both the world's only operational floating nuclear power plant and the northernmost nuclear installation. Akademik Lomonosov will replace the Bilibino nuclear power plant and the Chaunskaya thermal power plant, which are both being retired. The first Bilibino unit is scheduled to be shut down next year and the whole plant will be shut down in 2021.
The 144 m long, 30 m wide vessel left the Baltiysky Zavod Shipyard on April 28 and arrived in Murmansk on May 17 after having been towed over 4,000 km through the Baltic, Northern, Norwegian and Barents Seas.