Watch: Lithium-Sulfur Battery Uses Plastic to Solve Energy Storage Problems While Lowering Plastic Waste
Engineering360 News Desk | May 09, 2018
Engineers from Purdue have found a solution for reducing plastic waste and making stronger batteries at the same time. The new method puts ink-free plastic that is soaked in a sulfur-containing solvent in a microwave, and then turns that into batteries as a carbon scaffold.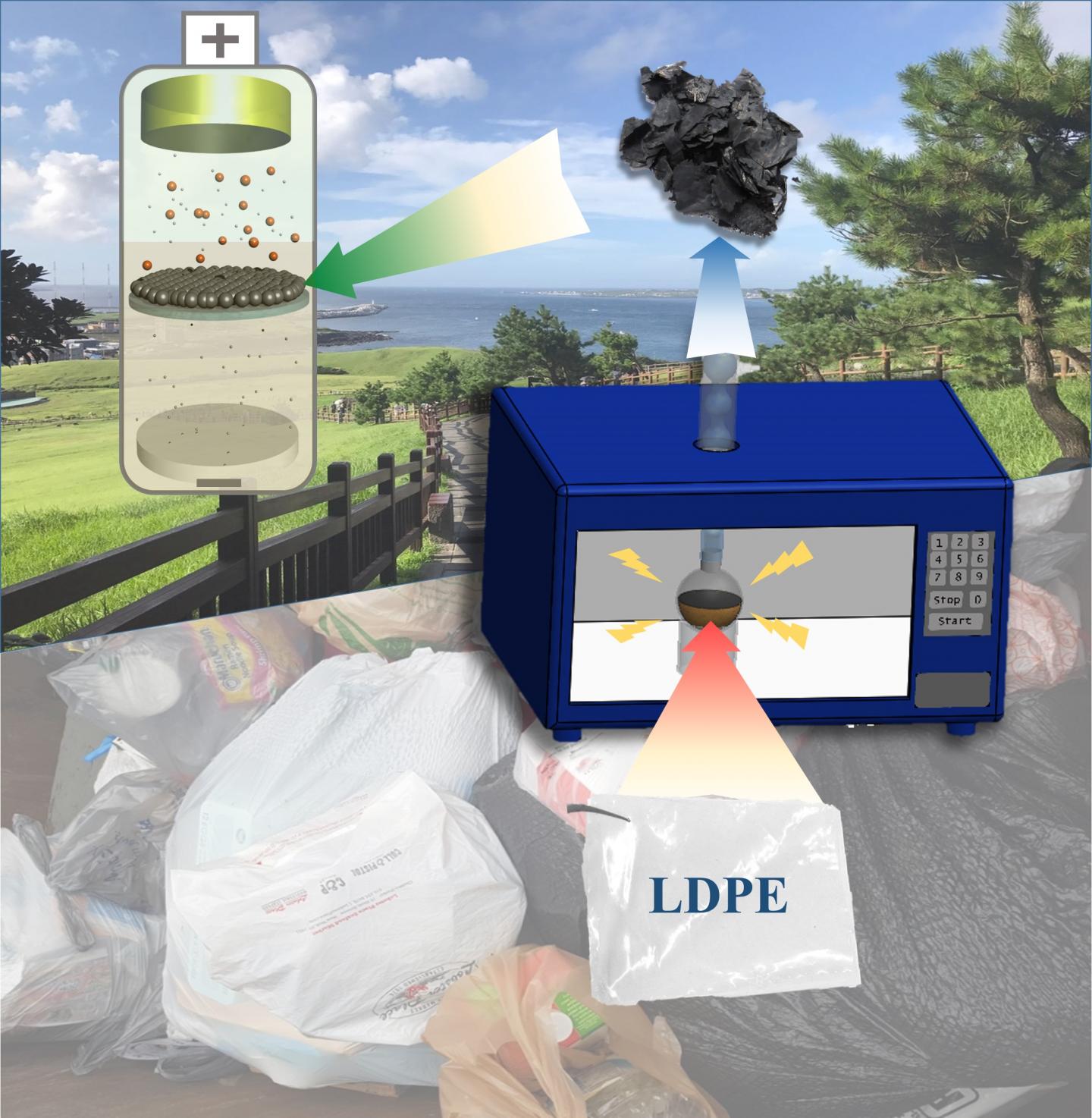 Researchers have discovered that soaking low-density plastic in a sulfur-containing solvent, putting it into a microwave and transforming it into a carbon scaffold makes lithium-sulfur batteries last longer and retain elevated capacity. (Source: Purdue University/Patrick Kim)
For some time researchers have been saying lithium-sulfur batteries will be the next-generation battery technology that replaces lithium-ion batteries. The lithium-sulfur batteries are cheaper and hold more energy, characteristics that are particularly important for electric vehicles and laptops.
But lithium-sulfur batteries haven't taken off yet because they don't last as long, only staying usable for around 100 charging cycles.
The research team has set out to fix this issue. They have found a way to increase the lifespan in a process that is also convenient for lowering the amount of plastic in landfills. The process soaks plastic in sulfur in a microwave, which transforms the material into the substance that increases battery lifespan to 200 charge-discharge cycles.
"No matter how many times you recycle plastic, that plastic stays on the earth," said Vilas Pol, associate professor in Purdue's School of Chemical Engineering. "We've been thinking of ways to get rid of it for a long time, and this is a way to at least add value. Because lithium-sulfur batteries are getting more popular, we want to get a longer life sucked out of them."
Low-density polyethylene plastic is used in packaging and is a major part of the plastic waste. The use of plastic addresses a battery issue called the polysulfide shuttling effect. This effect limits how long a battery lasts between charges.
When a current is applied to a lithium-sulfur battery, lithium-ions migrate to the sulfur where a chemical reaction takes place and produces lithium sulfide. Polysulfide is a byproduct of this reaction and it tends to cross back to the lithium side, which blocks the migration of lithium ions to sulfur, decreasing the charge capacity of a battery and the lifespan.
"The easiest way to block polysulfide is to place a physical barrier between lithium and sulfur," said Patrick Kim, a Purdue post-doc research associate in chemical engineering.
Studies in the past have attempted to make a barrier out of biomass, like banana peels, because the pores in biomass-derived carbon can catch polysulfide.
"Every material has its own benefit, but biomass is good to keep and can be used for other purposes," Pol said. "Waste plastic is really valueless and burdensome material."
Researchers turned to plastic to see how it could fix this problem. Low-density polyethylene plastic yields carbon when combined with sulfonated groups, so why wouldn't it work for this application?
The new sulfur-soaked plastic is heated in a microwave oven because it provides a cheap and quick boost in temperature, transforming the plastic into the polyethylene. The polyethylene could then be manipulated and made into a carbon scaffold to divide the lithium and sulfur halves.
"The plastic-derived carbon from this process includes a sulfonate group with a negative charge, which is also what polysulfide has," Kim said. Sulfonated low-density polyethylene made into a carbon scaffold, therefore, suppressed polysulfide by having a similar chemical structure.
"This is the first step for improving the capacity retention of the battery," Pol said. "The next step is fabricating a bigger-sized battery utilizing this concept."
The paper on this research was published in ACS Applied Materials and Interfaces.