Sponsored content
When products are modified or newly designed, components must be found that operate with the underlying evolving requirements. For example, when Great Lakes Air Products decided to launch a new line of regenerative compressed air dryers, it wanted to substantially increase the air flow delivered. It made perfect sense for Great Lakes to call on Specialty Manufacturing Company, a provider of brass check and ball valves for earlier iterations of similar equipment at Great Lakes. The new design moved the brass check and ball valve 50 percent larger from its current size of 0.5 in. That process was hardly a first, however. Previously, the 0.5 in. valve had replaced the 0.25 in. valves on similar equipment and Specialty Manufacturing Co. had designed both.

Figure 1. Moving from 0.5 in. to 0.75 in. required collaboration, design, test and verification to ensure that the valve provided the required air flow, without lowering the performance Great Lakes needed in previous versions of regenerative compressed air dryers. Source: Specialty Manufacturing Co.
Not only did Great Lakes want to increase air flow for its new air dryers, it was critical that the products maintain the high level of performance achieved in the earlier designs. Now, it was again time to take the size of the brass check valve reliably all the way up to 0.75 in., without any performance penalty.
Great Lakes Air Products
Great Lakes is a forward-thinking company that plans and collaborates well with its vendors. A long-term customer of Specialty Manufacturing Co., Great Lakes worked closely with Specialty Manufacturing Co., collaborating on the design, prototype, test and verification of the larger valves. The launch of a new line by Great Lakes involved four regenerative dryers:
GMR Heatless Regenerative Compressed Air Dryer, a pressure swing adsorption (PSA) dryer with a full 10-minute NEMA cycle, delivering a reliable -40° F pressure dew point in a compact, wall-mountable design.
GPS Heatless Regenerative Compressed Air Dryer, an industrial-grade PSA air dryer that delivers a reliable -40° F pressure dew point, with optional designs for -100° F, optimized for capacities of 25-3,000 standard cubic feet per minute (SCFM).
GEH External Heated Regenerative Compressed Air Dryers use a low-watt density Incoloy sheath heater to increase efficiency and reduce required purge air to 7 percent or less, with the standard series designed for 100 to 25,000 SCFM capacities.
GS Blower Purge Regenerative Compressed Air Dryer uses an atmospheric blower and low-watt density Incoloy sheath heater to increase efficiency and eliminate required purge air in the blower-only mode.
Scalability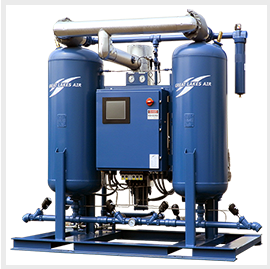 Figure 2. The GEH External Heated Regenerative Compressed Air Dryer by Great Lakes, one of four dryers in the new line that required a larger brass check valve to increase air flow. Source: Great Lakes Air Products
Scalability isn't just the ability to make something smaller or larger. It involves geometric and non-geometric aspects of a 3D model to arrive at feasibility, material selection, production, processes and cost. Using an engineering approach to design, test and verify the results is imperative. A deep understanding of scalability, manufacturability and virtually all aspects of design ensures that errors and design iterations are minimal. Given that most valves used in such equipment are designed to meet ISO standards, any modification must ensure that standards continue to be met.
Critical to Great Lakes Air Products redesign is scalability. Specialty Manufacturing Co. worked closely with Great Lakes Air Products for project success. Through collaboration, Specialty Manufacturing Co. and Great Lakes innovated a valve solution that scaled perfectly, meeting all design criteria for the new air dryer.
Why Specialty Manufacturing?
While it seems obvious that when a customer contacts a supplier requesting custom modifications, there would at least be an attempt to dig deeper into whether or not the request is viable. In a commodity-product industry, such as valves, this is seldom true. Commodity manufacturers, selling from catalogs or online, typically respond to requests for modification with an emphatic, "No, we don't offer that," and that's where it ends.
Would it be easier to just sell standard products out of a catalog? Probably, yes. Specialty Manufacturing, however, loves a challenge. For more than a century, Specialty Manufacturing Co. has provided high-quality standard and custom products. The ability to customize and the expertise to deliver specifications to reflect Specialty Manufacturing Co.'s strong customer-focused engineering culture and the attention to scalability are critical to successful custom design. Specialty Manufacturing Co. eagerly takes on projects that other companies won't attempt.
Specialty Manufacturing Co. revels in the collaboration process, improving design function and the manufacturability of valves. The Specialty Manufacturing Co. website is uniquely equipped to help design engineers select the right valve for their application. The Specialty Valves configuration tool, for example, walks the user through selecting a valve and designing it in 3D.
The configurator allows users to navigate valve attribute considerations to find the ideal solution for the application. Simply select from valve types and allow the configurator to guide the selection process and display results. Users can view and compare search results, compare CAD models and detailed product drawings, then download and import exactly what is needed. Additional assistance from Specialty Manufacturing Co. is always available.
Specialty Manufacturing Co.'s expertise ensures the delivery of the right, high-quality and application-specific solution perfectly scaled to your needs. Visit Specialty Manufacturing Company to explore how its willingness to say, "Yes!" can help with your next product design or modification.