Marines Place Order for Throwable Robots
Peter Brown | May 07, 2018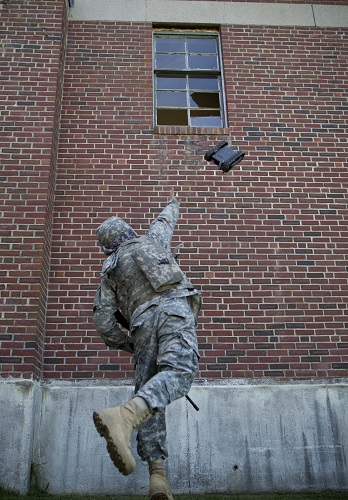 The FirstLook throwable robot being used. Source: Endeavor Robotics
Endeavor Robotics has been awarded a $10 million contract to provide the U.S. Marine Corps with lightweight, throwable robots.
The FirstLook robots are rugged and offer greater communications range through networked radios for use by military, law enforcement and industrial users. The five-pound robot can be dropped about 20 feet onto concrete without sustaining damage and can be used to clear buildings, detect IEDs and can scan confined spaces such as caves, tunnels and crawl spaces.
Day/night cameras and two-way audio allows the robot to act as eyes and ears to protect operators from potential threats. FirstLook can also climb over seven-inch obstacles and automatically rights itself when flipped.
The robots will come equipped with Endeavor's uPoint Multi-Robot control system that allows the device to be tablet controlled, lowering operator training time. This contract follows two other contracts worth more than $24 million to supply the Marines with the company's back-packable SUGV robot.